Electrical Wiring Regulations Explained
Our guide explains BS 7671 and the current electrical wiring regulations and standards in the UK.
What are the Wiring Regulations?
The wiring regulations (commonly referred to simply as 'wiring regs' or 'the regs') are a national standard used in the UK for electrical wiring. This standard lays out the requirement for installation of fixed cabling within a building to ensure the adherence of safety and proper practice. It also covers the testing of wiring.
Wiring regulations are designed to ensure a consistent, safe approach to wiring and electrical works throughout the UK. The very first edition was released in 1882. Since then, the wiring regulations standard has evolved over the years. Subsequent editions have been published as technology and thinking on safe procedures have developed over time.
UK wiring standards are typically harmonised with wider European regulations, as well as the IEC 60446 standard. However, there are some key differences between regulations in the UK and elsewhere, so it is important to be aware of the specific standards and their electrical applications.
British Standard BS 7671
BS 7671 is the 18th edition and the current standard used in the UK. It came into effect from 1st January 2019 and is the national standard used for electrical installation and wiring safety across domestic, commercial, and industrial properties.
BS 7671 covers circuits supplied at nominal voltages up to and including 1000V AC or 1500V DC. It also applies to Extra Low Voltage (ELV) ranges and Low Voltage (LV) ranges, across a variety of frequencies.
The 18th edition superseded the previous 17th edition (in effect from 2008 to 2018) and introduced several key additions. These included performance levels relating to energy efficiency, as well as the use of arc fault detection devices and surge protection devices. The 18th edition standard was amended in February 2020 with a change relating to electric vehicle charging installations.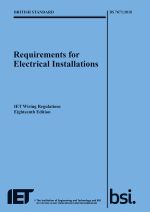 Shop BS 7671 Books
What is 18th Edition Training?
Due to the importance of the work that abides by these regulations, as well as their complexity, specialist training courses offer guidance through the regulation material and assist in obtaining the certification. These training courses focus on developing knowledge and understanding of the regulations as well as their practical application in electrical installation and wiring works.
The certification gained proves that the person in question has displayed a sound understanding of the regulations by passing an examination and will prove beneficial for the individual in completing work within the electrical industry.
What is Covered in the 18th Edition Training?
In the 18th Edition training, there are a variety of topics that are covered that ensure that both budding and experienced electricians are up to date with the current British standards of wiring regulations. Key subjects mentioned in the IET Wiring Regulations include:
Scope, Object and Fundamental Principles
This section covers BS7671, addressing the aims and objectives of the regulations and the importance of following and adhering to them thoroughly.
Definitions
As this is a required set of regulations, electricians need to have a full understanding of the terminology that will be used in practice. The IET book ensures clarity for every word, phrase, and acronym that is used in the field.
Assessment of General Characteristics
A general overview of the comparisons and characteristics of the electrical installation.
Protection for Safety
Arguably the most important section of the regulations, the safety precautions covered in the IET book grants electricians the knowledge of the technical requirements for the prevention of improper installations and protection from potential hazards, such as electric shock, electrical fires, and explosions.
Common Terminology
Various common terminology is used throughout the wiring regulations. It is important to have a full understanding of the terms, what they mean, and how they relate to wiring and electrical work you may be carrying out.
Some of the most common terms and phrases are explained below:
Building Regulations
The building regulations outline criteria and requirements for electrical safety. Compliance with building regulations is essential for anyone carrying out electrical installation work on domestic properties in the UK.
Building regulations do not restrict who can carry out proposed works and neither do they define standards for the safety of electrical devices and appliances. With regards to appliances, they simply require that fixed connections are safe. The quality and safety of the actual appliance itself is not covered by the regulations and is the responsibility of the homeowner or resident.
Competent Person Schemes
This principally refers to Part P of the regulations. To have the ability to certify your own work, you must be part of a domestic installers' competent person scheme. This could include several organisations and bodies, such as NAPIT, Elecsa, and NICEIC, to name just a few.
However, to join a competent person scheme, you must show the organisation that you have the required experience and understanding. This is because they need to be satisfied that you can complete works safely and in compliance with the necessary standards.
Permit to Work
In the context of electrical wiring regulations, a permit to work is simply a formal confirmation that electrical wiring has been isolated and made fully safe. This is vital to receive before any work is started, especially with regards to high voltage and high-risk works.
Beginning work without a permit to work is not only against the regulations, but it is also unsafe and could potentially be extremely dangerous. Electrical safety is paramount, which is why the permit to work is so important when dealing with wiring and circuitry.
Wires and Cables
The following provides a brief overview of the three core electrical cables and wiring types:
Live Cable and Wiring

Also known as line or phase, this is the wire which carries the power in a standard low-voltage domestic electrical installation. It is colour-coded brown in the UK.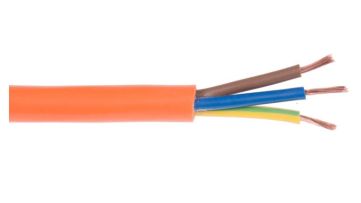 Neutral Cable and Wiring

In a standard, low-voltage domestic installation, this is the power-carrying wire which is typically bonded to earth voltage by the supplier. In the UK, this wire is colour-coded blue.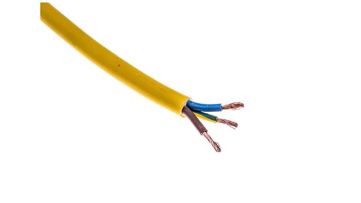 Earth Cable and Wiring

Also known as ground (primarily in the US), this is the safety wire which provides the connection to earth. It is colour-coded with a green and yellow stripe.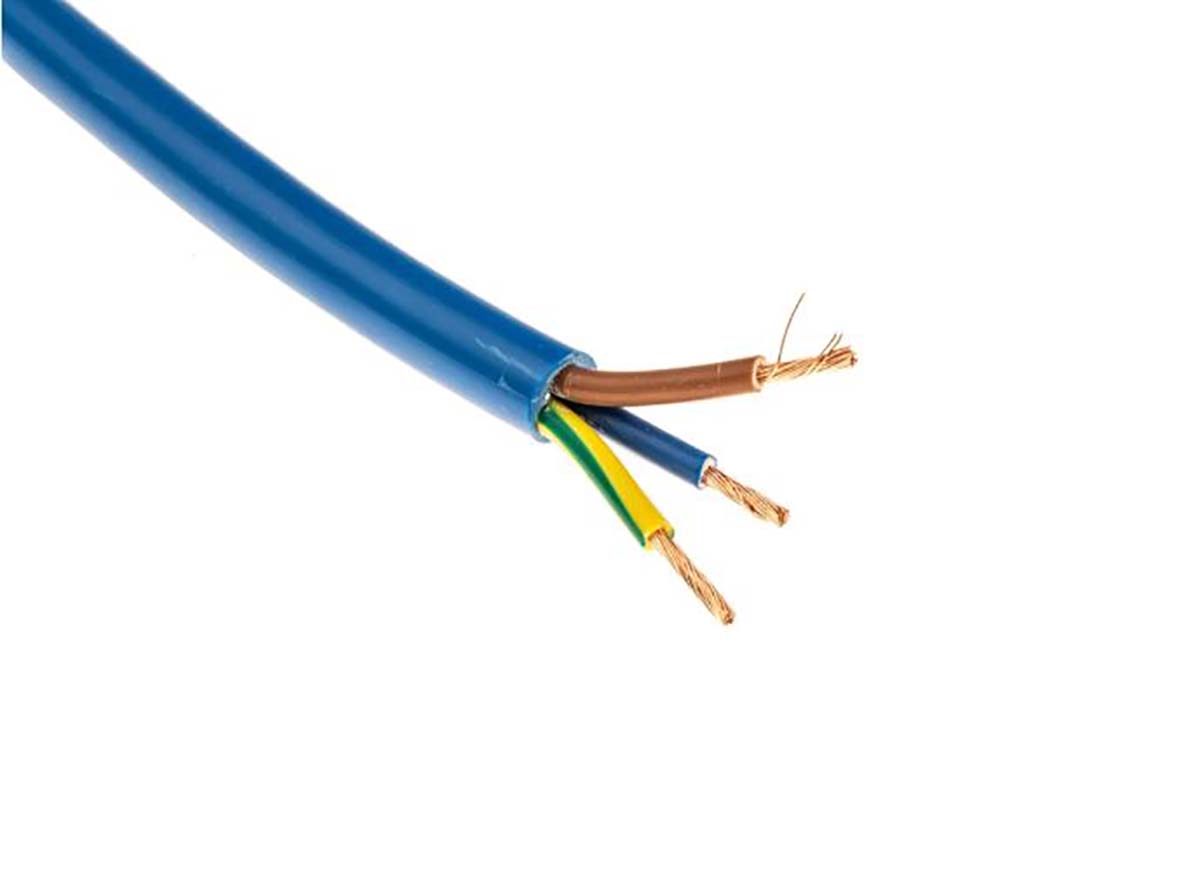 Wire Colours
Mains cable colours have been standardised across Europe and the UK since 2006. This enables them to comply with international standard IEC 60446 as well as BS 7671.
The current UK wiring colours are:
Brown (live)

Blue (neutral)

Green and yellow (earth)
As with all types of electrical work, wiring colours must be consistent in order to avoid confusion and ensure safety. Specific wiring colour regulations, as determined by BS 7671, are required to ensure the easy identification of different wires in fixed wiring electricity supplies. Compliance with the regulations is key and the set wire colours should be adhered to at all times.
FAQs
What DIY Electrical Work is Allowed?
Domestic electrical work can be broken down into two categories – notifiable and non-notifiable works. Notifiable works are generally larger-scale or more complex jobs, where both the risk and level of knowledge needed are higher.
As a result, notifiable works should only be completed by professionals and fully-qualified, registered electricians. Many people prefer to use those registered with the competent person scheme as they can self-certify regulation compliance. If the installer is not registered on the scheme, then the works will need to be certified by either a registered third-party certifier or a building control body (typically the local authority), and they will need to be notified before work commences.
Notifiable works include:
Installation of a new circuit

Replacement of a consumer unit or fuse box

Changes to an existing circuit in a special location
Special locations and installations include:
Rooms containing showers or bathtubs

Rooms containing swimming pools or sauna heaters

Electric floor heating systems

Kitchens and outdoors – garden lighting or power installations, for example (only applicable in Wales)
However, the majority of works are non-notifiable. This typically includes work such as maintenance, replacement, repairs, additions and alterations to existing installations outside of designated special locations and the notifiable exceptions explained above.
Minor electrical works meeting the above criteria can be carried out by homeowners, but it is still essential to comply with regulations and follow best practices for safety reasons. Additionally, wiring or circuits that are unsafe or have not been certified may invalidate home insurance, so you should not be tempted to take the risk.
Is BS 7671 a Legal Requirement?
Under the Health & Safety at Work Act section 17, you could be prosecuted for non-compliance with the BS 7671 regulations. It is widely accepted that compliance with the regulations and associated requirements will also ensure you comply with the 1989 Electricity at Work Regulations.
Do All Electricians Need 18th Edition?
It is not a requirement for all electricians to be certified under the 18th edition wiring regulations. Many find accreditation beneficial as it means they can self-certify compliance, but electricians can operate without being part of a competent person scheme.