RS Stock No.:

744-0950

Brand:
View all Power Cords
---
214 In stock - FREE next working day delivery available
RS Stock No.:

744-0950

Brand:
Legislation and Compliance
---
Product Details
RS Pro UK Plug to IEC C15 Power Cord
From RS Pro a high quality and durable power cable assembly or power cord for connecting an appliance to a mains power supply. This power cord is fully equipped with a BS1363 3-pin UK mains plug on one end and an IEC C15 type connector on the other that connects to the appliance. This type of lead is also known as a kettle lead as one of its commion uses is to connect your kettle to the mains. The power lead features integrated strain reliefs that provide additional protection and support to the connectors and prevent damage caused by excessive bending
What is a Power Cable assembly?
Power cable assemblies are electrical cables that are pre-terminated with a plug or socket connector. Power cable assemblies can be terminated with connectors on both ends of the cable, or just one. Depending on the application, there are various types to suit a wide range of requirements
What us ab IEC C15 Connector
The power cord is terminated with a fully moulded IEC C15 plug which is used to connect the power cord to an appliance that has a C16 inlet. This connector is rated at 10 A and is similar to the C13 connector but has a notch in the moulded housing opposite the earth to prevent mis-mating. The C15 socket is referred to as a 'hot condition' connector and is designed for use in high-temperatiure settings and has a temperature rating of 120°C. IEC connectors conform to IEC-60320 specifications laid down by the IEC (International Electrotechnical Commission) to ensure the connectors meet common global design standards
Features and Benefits
• Flexible and durable H05RR-F harmonised cable with EPR (Ethylene Propylene) insulation and sheath and stranded wire core
• BS 1363 3-pin plug
• IEC C5 'hot condition' socket with 120°C temperture rating
• Fully moulded connectors for strength and durability
• Reliable integrated strain relief for connection support and protection
Where are These Cable Assemblies Used?
These IEC C15 cable assemblies are for use with IEC Class I appliances and their high temperature rating makes them suitable for use in high temperature settings. Applications include the following:
• Electric kettles
• Computer networking closets and server rooms
• PoE (Power over Ethernet) switches with high wattage power supplies
• High end workstations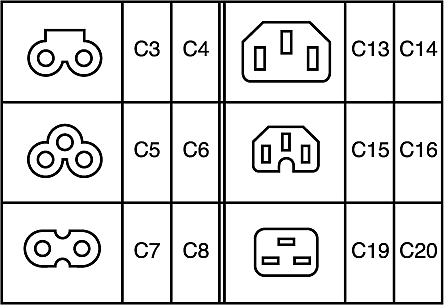 A range of electrical appliance connecting leads, the majority of which are terminated with connectors that conform to IEC 60320. The IEC (International Electrotechnical Commission) is the international standards and conformity assessment body. The drawing illustrates the range of connector types offered within this section - The 'odd' 'C' numbers refer to a socket type connector - mains input - and the 'even' 'C' numbers refer to a plug type connector - the appliance inlet.
---
Specifications
| | |
| --- | --- |
| Attribute | Value |
| Connector 1 | IEC C15 |
| Connector 2 | Type G UK Plug |
| Connector 1 Gender | Female |
| Connector 2 Gender | Male |
| Length | 2m |
| Current Rating | 10 A |
| Sheath Colour | Black |
| Outer Sheath Material | PVC |