ESD Control Guide
Choose from our extensive range of grounding accessories, packaging, clothing and ESD control equipment
Downloads
Associated Products
Introduction
Many electronic components and assemblies used in high technology products can be damaged or degraded by the sudden exchange of static electrical charges. This Electrostatic Discharge, or ESD, is the reason industries handling susceptible electronic components must take steps to minimise ESD risk.
As industry experts, we offer an extensive selection of Electrostatic discharge control equipment for any workplace environment. Brands range from RS Pro, our high quality, professionally approved own range, to SCS, Charleswater, Menda, EMIT, Electrolube, Vermason and other market-leading brands.
Sections in this guide
Causes and Risks of ESD
When two items are at different levels of electrostatic charge, i.e. one positively and one negatively charged, they will want to come into balance. If the items are in close enough proximity there can be a rapid, spontaneous transfer of electrostatic charge from one to the other. This is called Electrostatic Discharge or ESD.
As electronic technology advances, electronic circuitry gets progressively smaller. As the size of components is reduced, so is the microscopic spacing of insulators and circuits within them. Their sensitivity to ESD is increased.
This sensitivity means circuitry can be more easily damaged by the simple action of touching the product after moving across a room or workshop.
Static charge can build up on a person as explained below.
«


In dry air conditions, certain flooring materials are particularly susceptible to the build up of static charge. Flooring construction and its electrical resistance also play a part.
»
Risks of ESD
ESD is the hidden enemy in a high-tech manufacturing environment. Modern electronic circuitry can be burned or melted when subject to an ESD event which is, in effect, a miniature lightning bolt.
Two types of risk to electronic equipment can occur:
Catastrophic failure
Catastrophic failure causes a permanent fault. The ESD event may have caused a metal melt, junction breakdown or oxide failure. Normal inspection is able to detect a catastrophic failure.
Latent defect
A latent defect is linked to an ESD event that causes partial degradation. This defect may not be detected by normal inspection and the device can continue to perform as it should. The defect can then cause intermittent or permanent failure at a later time.
ESD Standards
EN 61340 Part 5-1: Protection of electronic devices from electrostatic phenomena is the standard most companies use to build their ESD control plan.
The standard uses a Human Body Model to simulate discharges from a person and increasingly tests an electronic device at higher and higher discharges until it fails. This establishes the device's withstand voltage.
ESD Sensitive Components
The electronic components in the chart below can be damaged by the electrostatic voltages shown.
| ESD Class | Voltage Rating (V) | Device Names |
| --- | --- | --- |
| Class 0 | 0 to 99 | SAW, JFETS, CCDs, Precision voltage regulator diodes, OP AMP, Thin film resistors, Integrated circuits, Hybrids utilizing class 1 parts, VHSI, CSCRs. |
| Class 1 | 200 to 1,999 | SAW, JFETS, CCDs, Precision voltage regulator diodes, OP AMP, Thin film resistors, Integrated circuits, Hybrids utilizing class 1 parts, VHSI, CSCRs. |
| Class 2 | 2,000 to 3,999 | JFETs, Ics, VHSIC, Precision resistor networks (type RZ), Hybrids utilizing class 2 parts, Low power bipolar transistors. |
| Class 3 | 4,000 to 15,999 | JFETS, OP AMPS, Ics, All other microcircuits not included in class 1 or 2, Small signal diodes, General purpose silicon rectifiers, Opto-electronic devices (LEDs, phototransformers, opto couplers), Resistor chips, Piezo electric crystals, Hybrids using Class 3 parts. |
ESD Control Plan
How to set up an ESD control plan in your company
Any business working with ESD sensitive items should set up ESD prevention and control measures in the form of a Control plan, according to EN 61340 Part 5-1.
Every company will have different processes so each will require its own plan. Steps to set up your Control plan are as follows:
Hover over the steps to begin creating your own ESD Control Plan.
1Define what you are trying to protect
Identify any ESD susceptible items that your company handles. Treat any device that you receive in ESD packaging as a susceptible item.
2Become familiar with the industry standards for ESD control
Read BS EN 61340-5-1 for guidance if you manufacture, process, assemble, install, package, label, service, test, inspect, transport or handle susceptible items.
3Select a grounding/equipotential bonding system
Eliminate differences in potential in your ESD protected area by connecting ESD control elements and personnel to a protective earth, functional earth or an equipotential bonding system.
4Determine a personnel grounding method for operators
Seated operators must use a wrist strap, however standing workers can use a foot grounding system. In some cases both grounding methods will be used.
5Establish and identify your ESD Protected Area (EPA)
Define all departments which will be EPAs. Identify and control access using signs, floor marking and access control measures.
6Select ESD control products to use in your EPA
Consider products such as work surfaces, flooring, seating, ionisation, shelving, trolleys and clothing.
7Develop a Packaging plan for materials handling and storage
When moving ESD susceptible devices outside a protected area, what packaging will you use?
8Use proper markings for ESD susceptible items, system or packaging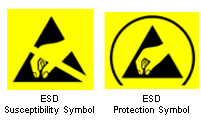 9Implement a Compliance Verification plan
Document the steps you will take to review, verify, analyse, evaluate and improve your ESD programme. Compliance verification records should be kept.
10Develop a Training plan
Your training plan should specify how personnel who handle or contact ESD sensitive items will undergo training in ESD awareness and prevention.
11Make the ESD Control plan part of your internal quality system
Your ESD control plan should include a list of ESD control items used in the EPA, the Compliance Verification plan and the Training plan.
ESD Product Selection Guide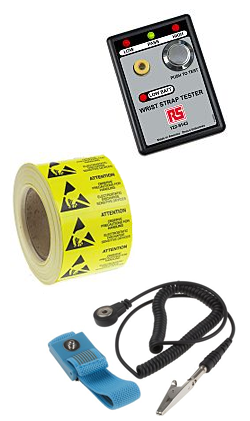 Click to expand and read about the key considerations for each control selection.
Technologies we offer
Use one of these links to view the products on the RS website