Featured products
Renewable Energy Solutions
A complete set of components to build your solar energy solutions.
High Efficiency Power Supplies
Low power consumption at zero load, and high efficiency power conversion. Discover our extensive range of new power supplies.
Electric Vehicle Cables
Charging cables for EVs, and specialized Power Supplies for charging operations.
LED Flood Lights
An ample choice of LED lights with a vast range of voltages, high-IP graded, available also in dimmable versions.
Solar Connectors
A specialised range of connectors for solar panels, batteries and junction boxes, with built in strain relief and interlocks.
Energy Meters
An industrial-standard range of multifunction programmable devices for monitoring energy expenditure across your industrial application.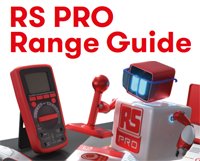 Full RS PRO range overview
Quickly understand what the RS PRO range has to offer
Navigate directly from the guide to the product range
Download your copy and keep for reference!
Energy Efficiency Solutions
Follow our RS PRO-BOT as he zooms around, optimising, replacing and upgrading components to create an energy-efficient solution for industry.
Energy Efficiency Range Guide
Find energy efficient solutions for your environment, application or task
Discover great value cost and energy saving options
Download and keep for future reference
RS PRO Seal of Approval
AUDITED in compliance with industry standards
INSPECTED for durability and consistency
TESTED by leading engineers for guaranteed quality and performance
Discover RS PRO Quality
Audited, Inspected, and Tested. Becoming an RS PRO product is not that easy. Take a trip to our Quality control labs with RS PRO-BOT!
Key ranges available from RS PRO