IET Wiring Regulations 18th Edition: 2018 Requirements for Electrical Installations
The 18th Edition of the Wiring Regulations are now effective, and all new electrical installations now need to comply with BS7671:2018. This book is vital for all involved in the electrical industry, including designers, installers, and those involved in testing and inspection of electrical installations.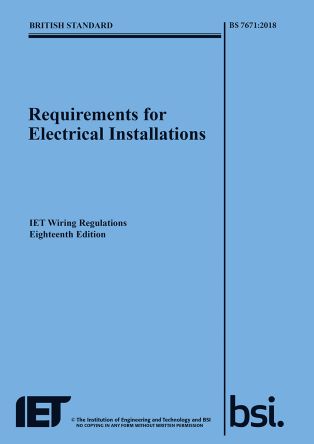 New edition includes:
Transient over voltages
Arc fault detection
New requirements around RCDs
Embedded electric heating systems for surface heating
EV Charging
New Section 730 concerning Inland Navigation Vessel
Energy Efficiency design recommendations
Guidance Books Also Available To Order
Fast, Safe and Easy Installation Testing
The Fluke 1660 Series Installation Testers are the only installation testers that help you quickly and efficiently meet local testing regulations, while at the same time preventing damage to connected appliances The Fluke 1664 FC not only performs critical installation tests but also lets you wirelessly e-mail results from the field.
Related Products
Related Videos
RS Pro Electricians Tool Kit
RS Pro 32 piece electricians tool kit, offering a variety of tools to make a comprehensive kit ideal for DIY and professional user. Designed for professional engineers who work on or around electrically live circuits. Tool kit has VDE certified screwdrivers, individually tested for use up to 1000 V AC.
RS Pro Installation Tester
Electrical testers to be used on motors, generators, cables, or switch gear,the tester line is designed to be safe, simple to use and gimmick-free. A perfect solution for troubleshooting, commissioning, and preventative maintenance applications.
Sylvania SylSmart
Sylvania SylSmart standalone room. Offering maximum control, minimum installation. Also offers an energy efficient lighting solution that's flexible, delivers ultimate control and is easy to install and program.