ON Semiconductor is driving energy efficient innovations, empowering customers to reduce global energy use. The company is a leading supplier of semiconductor-based solutions, offering a comprehensive portfolio of energy efficient power management, analog, sensors, logic, timing, connectivity, discrete, SoC and custom devices. The company's products help engineers solve their unique design challenges in automotive, communications, computing, consumer, industrial, medical, aerospace and defense applications.
ON Semiconductor operates a responsive, reliable, world-class supply chain and quality program, a robust compliance and ethics program, and a network of manufacturing facilities, sales offices and design centers in key markets throughout North America, Europe and the Asia Pacific regions.
5005 East Mcdowell RoadPhoenixArizona85008United States of AmericaTel: +(1) 06022446600 Web: http://www.onsemi.com/
Featured products
RSL10: Bluetooth® 5 Certified System in Package
Industry's lowest power consumption in Deep Sleep Mode (62.5 nW) and Rx in Receive Mode (7 mW)
Industry's best EEMBC® ULPMark™ scores (1090 ULPMark CP @ 3 V; 1260 @ 2.1 V)
Fully integrated RSL10 Radio SoC, Antenna, and passive components
IoT Prototyping Platforms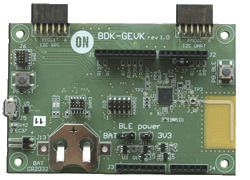 Reduce time-to-market and rapidly prototype
Modular and configurable WiFi & Bluetooth-based development platforms
Numerous shields supporting sensing, connectivity and actuation
Energy Harvesting Platforms with RSL10
Multi Sensor Development Kits with RSL10
Partnering with Formula E
onsemi is partnering with Mercedes in Formula E to help create an all electric power unit. For performance on and off the track, Think ON.
Current Sense Amplifiers
onsemi offers flexible and precise solutions with support for a wide range of common mode input voltages and multiple fixed gain options.
USB-C PD Controllers
Portfolio covering all USB standards including Type-C and Power Delivery. Supported by multiple reference design and evaluation platforms.
SiC Diodes & MOSFETs
Comprehensive SiC portfolio featuring 650V and 1200V Diodes, 1200V MOSFETs, and SiC MOSFET Drivers.
Development Boards and Kits
A full development suite of boards and kits for IoT, Sensing, Power, Acutation, and more.
Discover more of onsemi's class-leading technology and reference platforms through DesignSpark