RS Pro Thermal Imaging IR Thermometer
RS Stock No.

918-1085

Brand

RS Pro

Mfr. Part No.

TG-301
Product Details
RS Pro TG301 IR Thermometer
RS Pro TG-301 Thermal Imaging IR thermometer lets you see the heat map on the display so you know exactly where to target the temperature measurement spot. Easily finds unseen hot and cold spots for instant troubleshooting. Best accuracy in class with wide thermal range.
Features and Benefits
• One Navigator Key Operation
• 16384 pixels (128 x 128 pixels) thermal image after interpolation
• Distance/Spot Ratio 30:1 with precise laser indication
• Compact UV refrigerants leak detector with 5 UV/Blue LEDs
• Bright flashlight with 5 White LEDs
• SD memory card interface and micro USB connection for picture storage and download to a PC
• Ergonomically designed pistol grips
• 160 x 128 pixels 1.77" TFT-LCM Display
• CMOS overlapped IR-REXTM Technology
• Powered by 3 Standard AA size batteries
• Measuring Range: -30°C to 650°C
• Accuracy: ±1.5°C or ±-1.5% of reading, ±2.0°C at -10°C to 0°C, ±3.0°C at -30°C to -10°C
• Display Resolution: 0.1°C
• Operating Temperature and Humidity: -10°C to 50°C, (0% to 90% RH non-condensing@30℃)
• Battery Life: 12 hours
• Power: AA x 3 batteries
• Laser Safety: EN 60825-1: 2014 Class II
• Supplied with soft carry holster, 2 GB SD memory card, 3 AA alkaline batteries and instruction manual

Specifications
Not what you're looking for? Select the attributes you require, then click the button below
Absolute Maximum Temperature Measurement
+650°C
Temperature Scale
Centigrade, Fahrenheit
Distance to Spot Ratio
30:1
Best Accuracy
±3 °C
Resolution
0.1 °C
Response Time
<300 ms
Length
185mm
Width
51mm
Height
100mm
Dimensions
185 x 51 x 100mm
Weight
300g
Customer reviews
Add a review - Log In
82 In stock for FREE next working day delivery
Calibration Options:
Calibration is the process of comparing the accuracy of an instrument reading, to known standards. To buy a calibrated instrument, simply order the RSCAL or UKAS version. Please allow an extra 24 hours for delivery.
Technical Reference
RS Components

Statement of conformity

The product detailed below complies with the specifications published by RS Components. Where applicable it provides assurance that electrostatic discharge sensitive devices have been handled and packed under conditions that meet the administrative and technical requirements of the ANSI/ESD S20.20:2014 and BS EN 61340-5-1:2007 Electrostatic Control Standards.

| | |
| --- | --- |
| RS Stock No. | 918-1085 |
| Description | RS Pro Thermal Imaging IR Thermometer |
| Manufacturer/Brand: | RS Pro |
| Mfr. Part No. | TG-301 |

The foregoing information relates to product sold on, or after, the date shown below.

RS COMPONENTS

RS Components Ltd, Birchington Road, Corby, Northamptonshire, NN17 9RS, UK
Related Products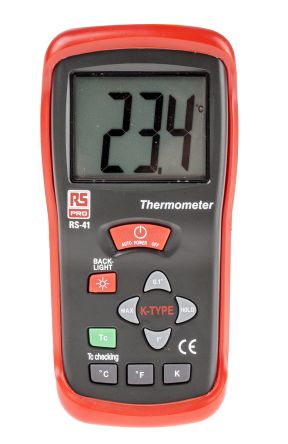 User Selectable Temperature Scales (°C or °F)User Selectable ...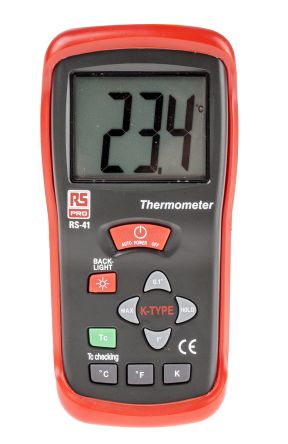 Description:
User Selectable Temperature Scales (°C or °F)User Selectable Readout °C, °F or Kelvin (K)Type K Thermocouple. Single Thermocouple input. Max Hold / Data Hold. Electronic Offset function allows compensation of thermocouple errors to maximise overall accuracy. Auto Power Off (Sleep ...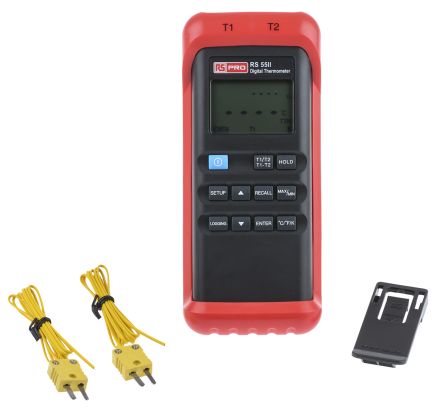 Two Type K bead thermocouples supplied. Dual thermocouple ...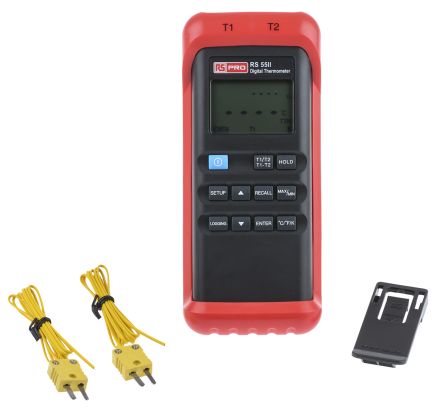 Description:
Two Type K bead thermocouples supplied. Dual thermocouple input K or J-Type. Differential temperature (T1 -T2)Real-time stamp. Data logging up to 16000 records°C, °F or °K display. Auto Power Off with selectable time setting. The digital hand held thermometer is ...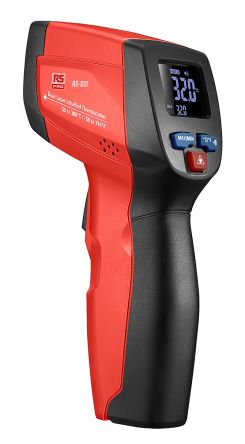 • Food preparation• Safety and Fire inspections• Plastic ...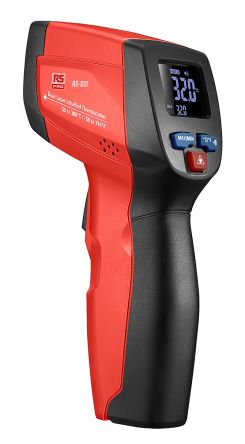 Description:
• Food preparation• Safety and Fire inspections• Plastic moulding• Asphalt, Marine and Screen Printing• Measure ink and dryer temperature• Diesel and Fleet maintenance. RS Pro RS820 Infrared thermometers are compact, accurate and easy to use. With a spot ratio of ...