Product Details
Han DD® Module
Features:
12 crimp contacts
Modules are polarised
Use crimp tool stock no. 114-7706 with locator stock no. 114-7920
Extraction tool is stock no. 114-7728
Mating cycles ≥ 500
Heavy duty power connector
Range includes:
110-9167 - Han DD Quad module male
110-9168 - Han DD Quad module female
114-7986 - Crimp Contact 1.5mm (Silver Plate)
156-7267 - Crimp Contact 1.0mm (Silver Plate)
156-7273 - Crimp Contact 1.0mm (Silver Plate)
173-7351 - Han(R) DD male contact module
173-7352 - Han(R) DD female contact module
221-1836 - Han(R) DD female contact module
221-1820 - Han(R) DD male contact module
842-7630 - Han DD female contact for use with PCP adapter
842-7633 - Han DD Series Male Contact for use with PC adapter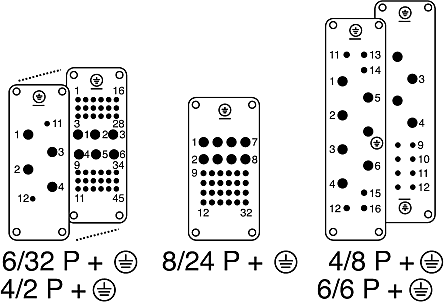 Crimp Pin Contacts for use with Han Series Connectors
From Harting, these high-quality contacts are able to be used in Han-Com, Han CD, Han D/DD/DDD and Han Q inserts. The AWG 20 turned contacts have a silver plated finish and are rated at 10 A.
Able to be used with a wide range of Han series inserts
Silver plated
18 AWG
10 A
Harting Han® Modular
The Han-Modular series is a system consisting of insert modules and frames into which the insert modules fit. These in turn may be fitted to standard Han® housings. The system allows a variety of insert configurations within the one connector assembly. The Han-Modular system is designed to meet specific requirements of individual customers and offers flexibility when considering connections for signal, power & pneumatic lines when a solution is required with one connector Apart from the quality of the crimp connector, the right choice of the assembly tool is the basic element of a reliable connection. HARTING offers appropriate crimping tools for different levels of automation for all connectors.
Warning
These connectors should not be mated or unmated under electrical load. Connectors of the same or different types arranged in a line should be polarised to prevent the possibility of wrong connection.