STEM Ambassadors are volunteers from a wide range of science, technology, engineering and mathematics (STEM) related jobs and industries across the UK.
They offer their time and enthusiasm to help bring STEM subjects to life and demonstrate the value of them in life and careers
Download our impact report here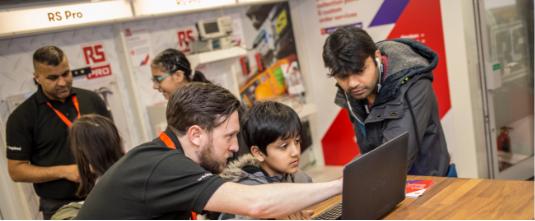 STEM Ambassadors are an important and exciting free of charge resource for teachers and others engaging with young people inside and out of the classroom
RS is honoured to have over 150 STEM ambassadors within the organisation and across the UK, who are able to support in co-ordinating activities in schools, clubs and the local community. These STEM ambassadors have access to latest in educational technology which they can use to run fun and engaging workshops.
Our Testimonials
| | |
| --- | --- |
| "I have been involved in STEM initiatives at previous companies and have always been passionate about encouraging the next generation to pursue careers that involve STEM disciplines. There's a huge amount a company like ours can do to inspire people to consider the possibilities of STEM and in particular to encourage diversity within the engineering and technology sectors." | Joseph Da Silva – Chief Information Security Officer |
| "As I am a mother of 4 , I decided to join the STEM Ambassador programme last summer, to give something back to my local community and support young people in the same way I want my own children to be supported" | Collette Severn - PR and Marketing Executive |
| "I decided to give something back to the local community and inspire children about my own experience of working in RS and what you can achieve in the future." | Amrit Poonia – Key Account Manager |
| "I would love to get more women into engineering, I have a fourteen year old daughter and I'd like her to feel that she can compete equally in any career she decides to pursue, I don't want her to be put off by ancient job stereotypes". | James Bulteel – Regional Sales Manager |