Everything You Need To Know About Socket Sets
What is a socket set?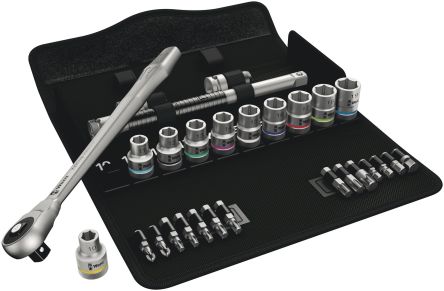 A socket set is a versatile and convenient bundle of toolkit accessories that gives users the flexibility to tackle multiple sizes and types of fasteners, primarily aimed at fitting to a diverse range of nuts and bolts. Socket sets are usually packaged as a single handy case, box or pouch of numerous interchangeable attachments.
In fact, there are so many different shapes and sizes of nuts, bolts and other fasteners out there, no one socket set kit (also known as ratchet and socket sets, or socket wrench sets, depending on what's included) is likely to offer add-ons for every single size of fastener you might come across.
Most comprehensive sets include sockets for the majority of fastener types, but not for all possible sizes. As with most toolkit items of this type, knowing which varieties of nuts and bolts you're most likely to encounter in your day-to-day work is thus an important factor in deciding which socket set - or combination of sets - is right for you.
In this guide, we'll take a look at some of the most common uses, configurations and sizes of socket sets for sale in the market, as well as identifying some leading brands you might like to consider when looking to make a purchase.
What are socket sets used for?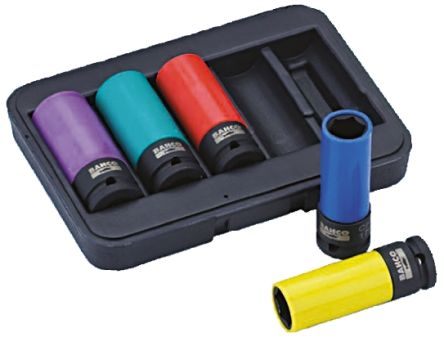 Ratchet and sockets sets are primarily used for tightening or loosening a wide selection of fastener sizes and types. They're especially widely used by professional or DIY/enthusiast mechanics in both commercial and home garages, as many standard socket sets include attachment sizings to suit the most common nut and bolt gauges on cars, trucks, buses or other vehicles.

As well as being convenient and versatile, socket sets can make certain tricky tasks easier by offering an additional level of user-friendliness. For example:
When tackling especially tough or rusted fasteners, having a well-stocked socket set on hand usually gives users the ability to select a socket with a close-to-perfect fit over (or into) the nut or bolt head in question.
The majority of sockets will fully encircle a nut or bolt head, enabling the tool to provide much better grip on stubborn or inconveniently sized fasteners than an open-jaw wrench, offering greatly increased torque.
This also minimises the chance of a non-socketed and less tight-fitting tool slipping under heavier force, which can potentially result in injuries to fingers, knuckles or wrists, as well as costly damage to tools and fixtures alike.
How to use a socket set

Socket sets are generally very simple to use, and almost always offer a no-fuss quick-change functionality to make swapping between differently sized attachments on the same wrench or ratchet spanner a breeze.
A socket set consists of multiple different attachments in a variety of sizes that slot or snap on to the handle of a
socket wrench
, also known as a
ratchet spanner
, or similar turning tool. This gives them the flexibility to handle many different shapes and gauges of nuts and bolts, and provides far greater convenience and portability than carrying around numerous individual spanners, ratchets or
torque wrenches
, all in varying sizes, from job to job.
In most cases, a socket wrench set will be designed around a fairly generic handled tool, at least one of which is usually included with the set (although not always, especially in smaller kits):
The most common versions of these tools feature a simple turning handle - the socket wrench itself - typically with a ratcheting mechanism at the head end.
An exposed square or hexagonal drive-post connector is also located at the head, onto which the various attachments in the set, i.e. the sockets themselves, will be slotted for use.
Once the appropriate size of socket for the fastener in question has been selected and attached via its drive-post recess, the other end of the socket will, in turn, be placed over or into the fixture being loosened/tightened.
Most sockets have a 'female' or recessed opening, designed to fit over protruding nuts and bolts - but 'male' versions are commonly included in sets for use on female-type nuts and bolts with recessed heads, more like a traditional screwdriver/screw arrangement.
The ratcheting mechanism in a socket wrench allows for continuous adjustment of the nut or bolt when moved in a clockwise direction, but lets the tool rotate freely when turned anticlockwise. This means the user doesn't have to lift off and reseat the wrench when they reach the end of the comfortable turning arc, or when working in confined spaces. A simple switch on the ratchet handle usually reverses this directional bias, allowing the same ease of use when loosening fasteners as when tightening them.
Different types of socket sets
The key difference between socket sets is usually the range of fastener sizes they're designed to fit over, and we'll discuss some common sizes and kit configurations in subsequent sections.
However, it's also important to be aware of the different types of sockets you can purchase as a set. Some of the more popular varieties of socket wrench kits are as follows:
Impact socket sets

Impact driver socket sets function much like any other socket set, except they're designed for use with power tools such as electric or pneumatic air wrenches.
To withstand use in these high-demand applications, impact sockets are generally forged from slightly softer but thicker (and therefore less shatter-prone) alloys such as chrome molybdenum steel, frequently dipped or coated to provide enhanced anti-corrosion properties.

Imperial socket sets

Socket sets in imperial measurements are designed to tackle fasteners whose heads are measured in inches and fractions of inches. While this was once the accepted standard (and is still widely referred to as the SAE standard, an acronym for the US-based Society of Automotive Engineers), the majority of other countries around the world today prefer the metric system.

Note: while metric values are often used for the socket head opening these days, the drive socket recess - the part that attaches a socket to a ratchet spanner - is always given in imperial measurements (see 'socket set sizes' further on in this guide).




Measured in millimetres, metric is broadly seen as tending to be somewhat more precise for many uses. However, it's not at all common to encounter nuts and bolts that still conform to imperial standards, particularly in older or machinery. In most cases, you should be able to find a roughly equivalent metric/imperial socket that will do the job in a pinch (e.g. 5/16" and 8 mm, or 7/8" and 22 mm), but this isn't an ideal approach.

If you know you're likely to be encountering fasteners that use both standards at some point, it's sensible to invest in both types of kit - or, as is the case with a good number of reasonably priced socket sets, one that includes options for either system.

Deep socket sets

They're also more widely available in smaller sets or as individual attachments than regular sockets - outside of automotive environments, it's fairly common to see toolkits with a full complement of standard-length sockets, plus a narrower selection of deep sockets for more occasional uses.

Hex socket sets

A hex socket set, also called a 6-point socket set, is designed to fit over a standard 6 sided hexagonal shaped nut or bolt head. These are the most common type of socket.

They're generally preferred for everyday use because they're extremely versatile, fitting a majority of fasteners in most applications, and the fact that the socket forms six points of contact with the nut or bolt means it tends to offer very reliable purchase for tightening and loosening.

Some hex socket sets - generally the higher-end ones - feature slightly convex internal socket faces, which allow for more torque to be applied while reducing the risk of stripping or rounding-out the head of the fastener at its corners.

12-point socket sets

12-point socket sets, often called 'bi-hex', work on the same principle as their 6-point hex cousins, but the recessed openings of the sockets feature twice as many inner faces.




Collectively, they provide 12 points of potential contact with the fastener, which can deliver some important benefits: as well as making it quicker and easier to seat the socket over most fastener types, a 12-point socket set allows for square-head nuts and bolts to be accommodated (these cannot be fitted into a 6-point hexagonal recess at any angle).

The possible downside of a 12-point or bi-hex socket is that the force tends to be exerted more directly on the corners of the fastener head, leading to higher risk of rounding or stripping if too much torque is applied.
Socket set sizes
Socket sets come in a wide range of sizes in both metric and imperial types, for tackling most types and gauges of fastener. It's important to note that socket sizes are actually given in two measurements, namely:
The size of the drive socket (the part that attaches to the socket wrench). These are always given in imperial measurements, and will usually be either 1/4", 3/8", 1/2", 3/4" or 1".

The size of the socket head (the part that fits over or into a fastener). Usually, the smaller the drive socket size is, the smaller the socket head size will be, and vice versa.
The majority of socket sets can broadly be categorise into either small-size or large-size sockets, with some overlap at the upper and lower ends of their sizing ranges.
Small socket sets - usually have 1/4" or 3/8" drive sockets, and head sizes range anywhere from 3mm to 22mm. These are ideal for use in confined spaces, or where a small gauge of fastener needs to be adjusted or removed.
Large socket sets - commonly have 3/4" or 1" drive sockets with head sizes ranging from 19mm to 50mm.. Large socket sets are generally required for larger fasteners, which tend to require (and withstand) more torque when tightening or loosening. A larger socket size usually indicates a larger drive socket, which can help deliver these higher forces without risking immediate damage to the tool.

Half inch socket sets - half-inch socket sets effectively occupy the middle ground between what would be classed as 'small' or 'large' sockets. The 1/2" drive socket standard falls right in the middle of the standard drive socket sizing range, and socket head openings intended for use at this gauge range anywhere from 8mm to 32mm in metric measurements.
Socket set brands and manufacturers
| | | | |
| --- | --- | --- | --- |
| | Bahco is a tool manufacturing brand originally founded in Sweden. Now a leading pan-European name in hand tool design and production, its key innovations over the years have included the adjustable spanner, the bi-metal hacksaw blade and the ergonomic screwdriver. Bahco socket sets are known for their high-performance steel alloy construction. | | DeWalt is among the top-regarded brands for hand and power tools across all manner of worldwide construction, manufacturing and engineering fields. Like all of the company's products, DeWalt socket sets are rigorously tested by genuine professionals under the most demanding job site conditions. |
| | Wera is a German brand widely seen as one of the more innovative designers of hand tools on today's market. They specialise in turning and torque tools, including Wera socket sets, which are rightly lauded for their lasting quality and precision. | | Stanley socket sets are equally prized by hobbyists and professionals for their ruggedness and consistency of build quality - a brand synonymous with reliability, innovation and value for more than 170 years. |
| | Headquartered in Japan, Makita needs no introduction to professional mechanics, engineers and craftspeople of all stripes, being extremely highly regarded for its market-leading standards in manufacturing, performance and safety. Makita socket sets are no exception, made from high-quality alloy steel for long life, durability, impact resistance and ease of use. | | Gedore is among the global market leaders when it comes to hand tool branding, having expanded dramatically from its German roots since forming in 1919. Gedore socket sets are designed by established experts in the field, and chosen primarily for their rugged build quality. |
| | Yet another leading German manufacturer that still makes all of its tools on home soil, Stalwille today exports to more than 90 nations. Stalwille socket sets are crafted from high-grade steel alloys to deliver exacting standards of performance and longevity. | | CK tools are engineered to offer leading performance, durability, accuracy and strength, and the company's product development is driven by panel of cross-trade professionals. CK socket sets reflect input from both metallurgical and hand tool design engineers, which shows in their manufacturing quality and range of robust finishing treatments. |
| | France-based manufacturer Facom is recognised for quality craftsmanship at competitive prices. Solid design mechanics and consistent ease of use make Facom socket sets a popular brand choice among both professionals and home users alike. | | US brand Gearwrench is a highly regarded name among professional mechanics, especially well-known for its patented five-degree-turn and X-Beam ratcheting wrenches. Gearwrench socket sets have gained a deserved reputation for ruggedness, speed and convenience, available in a range of both SAE and metric configurations. |
Summary
With such an extensive range of product types and sizes on sale, picking out the correct socket set for the specific requirements of a given job can seem a daunting task. However, the beauty of many such kits is that they're designed and supplied precisely in order to offer maximum flexibility and cost-effectiveness.
If you know roughly what sorts of fastener types you're most likely to encounter on a day-to-day basis, there's guaranteed to be a socket set available that meets your needs. If you'd like any further advice and guidance on specific products in this range - or on socket sets and related accessories in general - please don't hesitate to contact a member of our expert support team for assistance.
Product spotlights
Browse our best selling socket sets below: