A Complete Guide to Sensor Connectors
Our sensor connectors guide explores their uses, how they work, and the different types that are available.
What are Sensor Connectors?
Sensor connectors are primarily used in conjunction with sensor cables, sensor connectors, and switch cables for a variety of different industrial applications. They are quite versatile connectors, typically available in a wide range of different materials, sizes and lengths to suit a selection of industrial components and applications.
They are used to connect sensing devices and components such as proximity sensors, photoelectric sensors, ultrasonic sensors, and current transducers, providing a durable and secure connection. Sensor connectors typically also feature coded ends offering various pin layouts for greater choice and flexibility.
What are Sensor Connectors Used for?
Alongside sensor and switch cables, sensor connectors feature technology which enables them to integrate into industrial automation processes and systems seamlessly. In short, these connectors are used to join the corresponding cables and components with the switches, sensors, and equipment which make up the industrial automation process. All of these separate components are then joined together to work as one automated unit, providing an efficient system able to work at maximum efficiency, increase productivity, and minimise downtime.
Sensor cables and connectors can be used with multiple different types of switches and sensors across a wide variety of industries and sectors. However, they are commonly used in industrial process control and automation environments within the manufacturing and food and beverage industries.
How Do Sensor Connectors Work?
Sensor connectors and cables are suitable for use with a wide range of switches, sensors and transducers, as we have already mentioned. As sensor connectors are such versatile components, they can be used in a variety of applications ranging from industrial automation systems and processes through to vehicles and the automotive industry.
This means that different sensor connectors are best suited to various applications, and they can be installed in diverse environments. As such, this means that different sensor connectors work in different ways, as explored further as we detail some of the main types of connectors in the sections further on in this guide.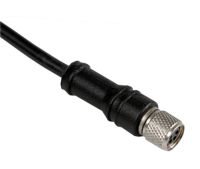 These connectors can also be used with the majority of switches, sensors and cables which feature an IO-Link interface or those which have ATEX approval.
IO-Link
IO-Link is an industrial communication and networking standard. It is primarily used in industrial automation to connect components like sensors to various types of industrial Ethernet or Fieldbus. IO-Link provides a secure, wired connection, ideal for travelling shorter distances between different fixed points.
ATEX
ATEX is a type of certification used in Europe for testing and approving equipment. The approval ratings are designed for components that are likely to be used in potentially hazardous environments, and it is a standard required to confirm that equipment is safe for use in these areas.
Types of Sensor Connectors
There are multiple different types of sensor connectors, each suitable for varying uses and applications. From different sized connectors to connector genders, voltages, and more, it is essential to select the most appropriate type of sensor connector for your setup.
Some of the main types of sensor connectors you may encounter are explored in the sections below.
O2 Sensor Connectors
O2 (oxygen) sensors are primarily used in vehicles and the automotive industry to monitor the levels of unburned oxygen exiting vehicles via the exhaust. These sensors can help mechanics to gauge the vehicle's fuel and oxygen consumption accurately and determine if the engine is burning lean (higher levels of oxygen) or rich (lower levels of oxygen). Connectors are used alongside these O2 sensors and cables to integrate the sensor into the setup fully. It is also important to note that grease should not be used with O2 sensor connectors as this could cause an airflow blockage.
Pressure Sensor Connectors
Pressure sensor connectors and adapters can be used alongside pressure sensors for a comprehensive sensing solution. They are found in a variety of pressure sensing applications and are suitable for use with substances such as fuel, liquids, and oil. In specific scenarios, pressure sensor connectors can also be found alongside throttle position sensors.
Speed Sensor Connectors
Speed sensors are similar to tachometers and are designed to monitor and record the speed of a wheel's rotation. They are most commonly used in vehicles but can be used in any application requiring reliable movement direction and speed detection of a wheel or designated component. Speed sensor connectors are available in various forms, providing the flexibility to incorporate the connector into a new or existing setup easily.
Temperature Sensor Connectors
Temperature sensors measure and document the temperature of their surroundings, providing an accurate record of temperature data and changes over time. Both contact and non-contact temperature sensors are available, each best suited to different applications. Temperature sensor connectors are used with these devices to provide a complete, connected sensing solution.
Connection Types
Both male and female connection types are available, alongside a wide range of different sizes and materials used in the manufacturing process. Some connector types have varying numbers of pins, making them suitable for different cables and components. As explored above, each distinct type of sensor connector has unique benefits and advantages. Still, it is also important to consider the connection type when choosing sensor connectors for your application.
Some of the most common connection types are explored below.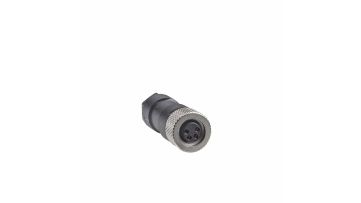 3-pin connectors feature three distinct pins for connection to specific cables and components. They can be used with various cable assemblies for a range of sensing tasks.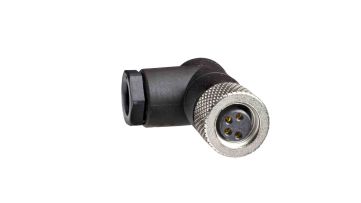 4-pin connectors are ideal for a range of uses and applications. Suitable for use with a variety of electronic sensor types, 4-pin connectors can vary in size and gender.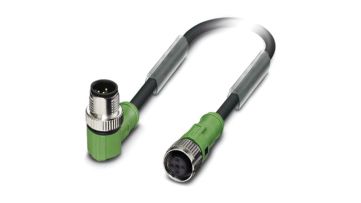 5-pin connectors are characterised by their five pins, typically housed in a protective outer casing. They are suitable for a range of devices and applications including cable assemblies and distribution units.
M-style connection types are a common standard used for sensors and similar industrial networking equipment. M-style connectors are built to perform in extreme conditions, offering a secure and reliable method of transmitting data and power within industrial automation systems.
Browse M-style sensor connectors below:
M8 Connectors
M8 sensor connectors are compact and efficient, offering quick screw-lock coupling and a durable addition to multiple applications. Ideal for industrial process control and automation environments, they are simple to install and ideal for minimising downtime.

M8 sensor connectors provide good levels of protection against external items like dust and moisture, helping to keep assemblies operating at maximum efficiency.
View Range
M12 Connectors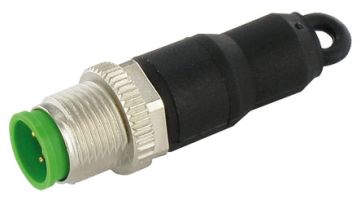 M12 sensor connectors are similar to M8 connectors but larger in size. One of their main benefits is plug-and-play functionality, providing quick and easy installation without compromising stability or connection security.

M12 connectors are suitable for high-performance assemblies and can be used in a variety of applications and environments.
View Range