Complete Flight Case Guide
In this guide, we will explore the numerous options available
when looking to buy a flight case or equipment case.
Reviewed by Shane Jaconelli, Technical Interaction Engineer (December 2020)
A flight case is a sturdy, rigid trunk or enclosure designed for protecting goods in transit and storage. They are also known as equipment cases and transit cases.
They are typically made from plastic or metal. Many models also feature various additional options, like heavy-duty foam inserts or additional protective padding.
Equipment travel cases are widely used in a range of industries and applications. This includes the avionics, transport, electronics, entertainment, test and measurement, medical, security and military sectors.
These cases are primarily designed to shield and protect fragile or high-value items during transit. Some are specifically designed to house particular pieces of equipment or instruments. Others are more adaptable and can be used to protect goods that may otherwise be at risk of damage.
Transit Case Materials
Equipment cases are available in a range of materials, but the most common are explained below.
Aluminium Flight Cases
Among the most common types of modern metal transit cases are aluminium flight cases. These can be found in widespread use across many industries and sectors.
Aluminium transit cases are available in both large and small sizes and provide a perfect solution for transporting a variety of delicate or high-quality goods safely across long distances. Common uses include shipping fragile electronics, instruments and tools.
Lockable aluminium cases with foam padding are highly robust, often featuring reinforced or ribbed cast aluminium side and top panels for added strength. Hinged lids and secure fixings are frequently coupled with ergonomic comfort grip handles. Castor wheels will be sturdy and smooth-running.
Many models of aluminium flight case are also designed with corners made from toughened, impact-resistant materials. Not only does this provide extra protection during travel, but it also allows for easier stacking, so you can reduce the amount of storage space needed.
As with all protective cases, metal versions typically include removable PE foam inserts around the walls, base and lid for advanced damage protection.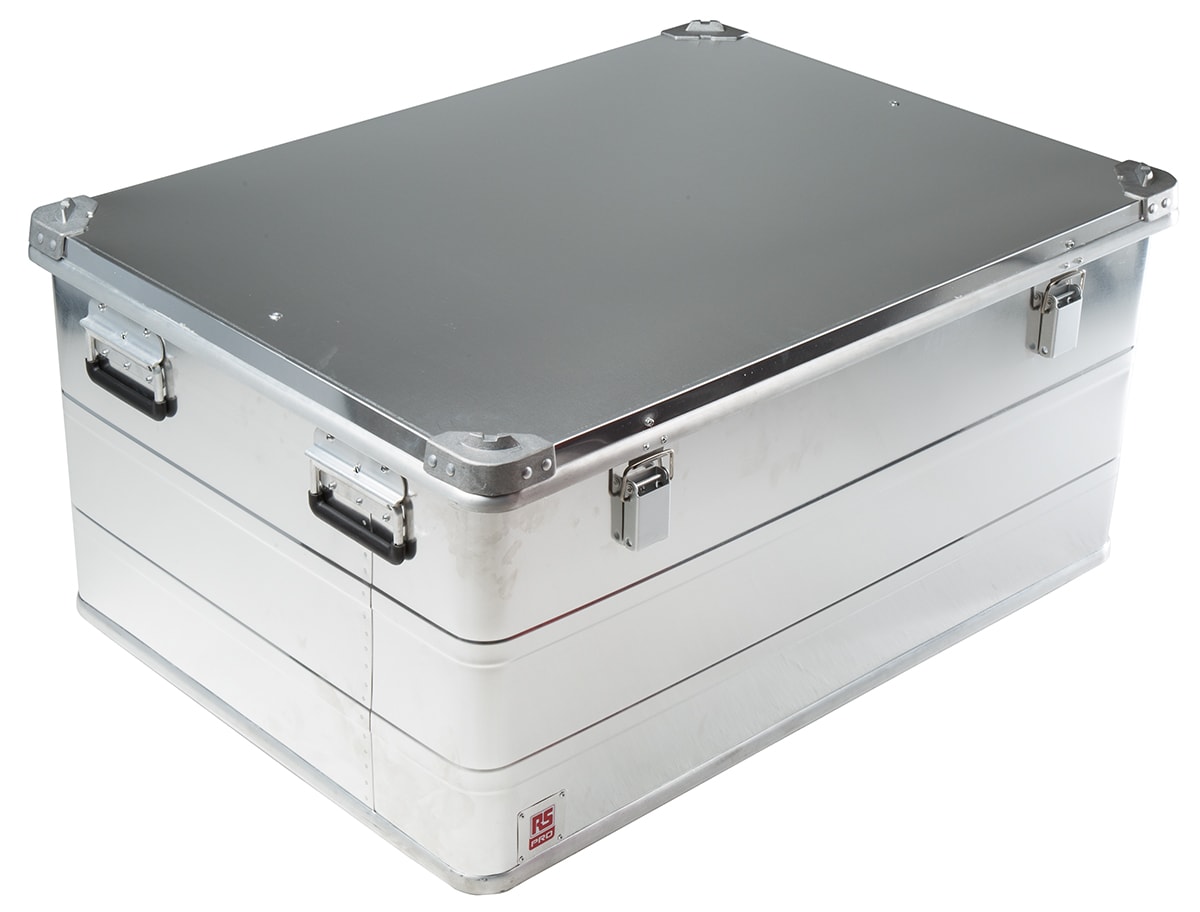 Shop Aluminium Flight Cases
Plastic Flight Cases
Plastic flight cases are a highly popular option. This is due to the impressive combination of ruggedness and low weight offered by modern polymers. Many cases are virtually indestructible under normal transport conditions. Plastic equipment cases offer robust protection against both knocks and impacts, as well as bringing a certain level of water and chemical resistance.
As with all types, plastic flight cases can be bought in a wide range of configurations. Advanced IP ratings offer full guarding against moisture, humidity, dust and dirt. Many such products with higher levels of ingress protection will feature thick rubber seals and double-step latching, delivering an extremely reliable performance when closed and secured.
In addition, you will often find plastic flight cases cited as having a range of other benefits and features. These can include:
Tough, scratch-resistant, double-walled construction

Strong wheels with steel bearings

Automatic pressure equalisation valves

Retractable easy-reach extension handles

Internal foam supports to help keep important articles safe and secure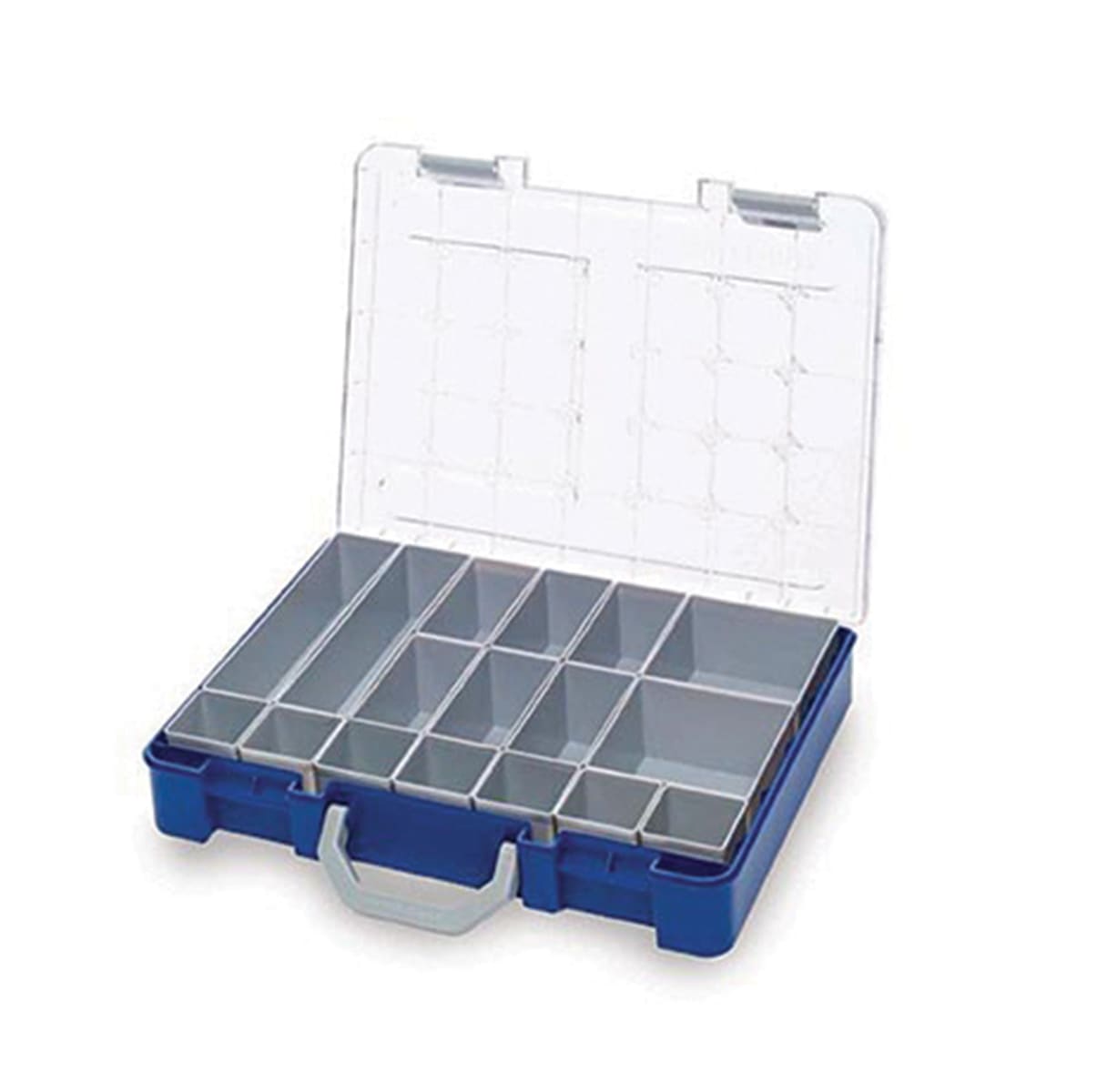 Shop Plastic Flight Cases
Flight Case Types
Some of the main types are explored in greater detail in the sections below.
Flight Cases with Foam
Padded equipment cases offer a wide variety of benefits. Durable foam padding is typically used as an insert to protect the contents, bringing increased protection against damage incurred by knocks, scrapes, and bumps during transit. For this reason, equipment cases with foam are usually used for more delicate instruments and items which could be easily damaged during transit or from coming into contact with the hard case.
Flight cases with foam are available in a range of sizes to suit varying types of potential contents. Wheeled cases with foam are also on offer to support easy manoeuvrability and make it easier to move the case.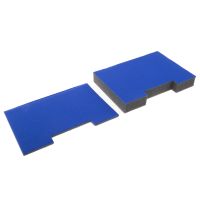 Shop Flight Cases with Foam
Flight Cases on Wheels
Flight cases with wheels and castors are a popular choice due to their accessibility and ease of movement. Wheeled equipment cases tend to come in several different variants. Firstly, storage boxes with wheels added as an additional convenience tend to have smaller and potentially less sturdy castors and bearings. These are often recessed further into the body of the case, allowing for easier stacking. These models may be less suitable for wheeling over longer distances.
On the other hand, transport cases which feature more prominent swivel wheels often cite full manoeuvrability as a key part of their overall design. This becomes increasingly important with large, heavy or bulky items.
Such models will frequently list features like heavy-duty wheels made from strong materials like polyurethane. Bearings will often be steel or reinforced with other rugged materials and may be self-oiling for smoother free-running action over a wider variety of terrains and surfaces.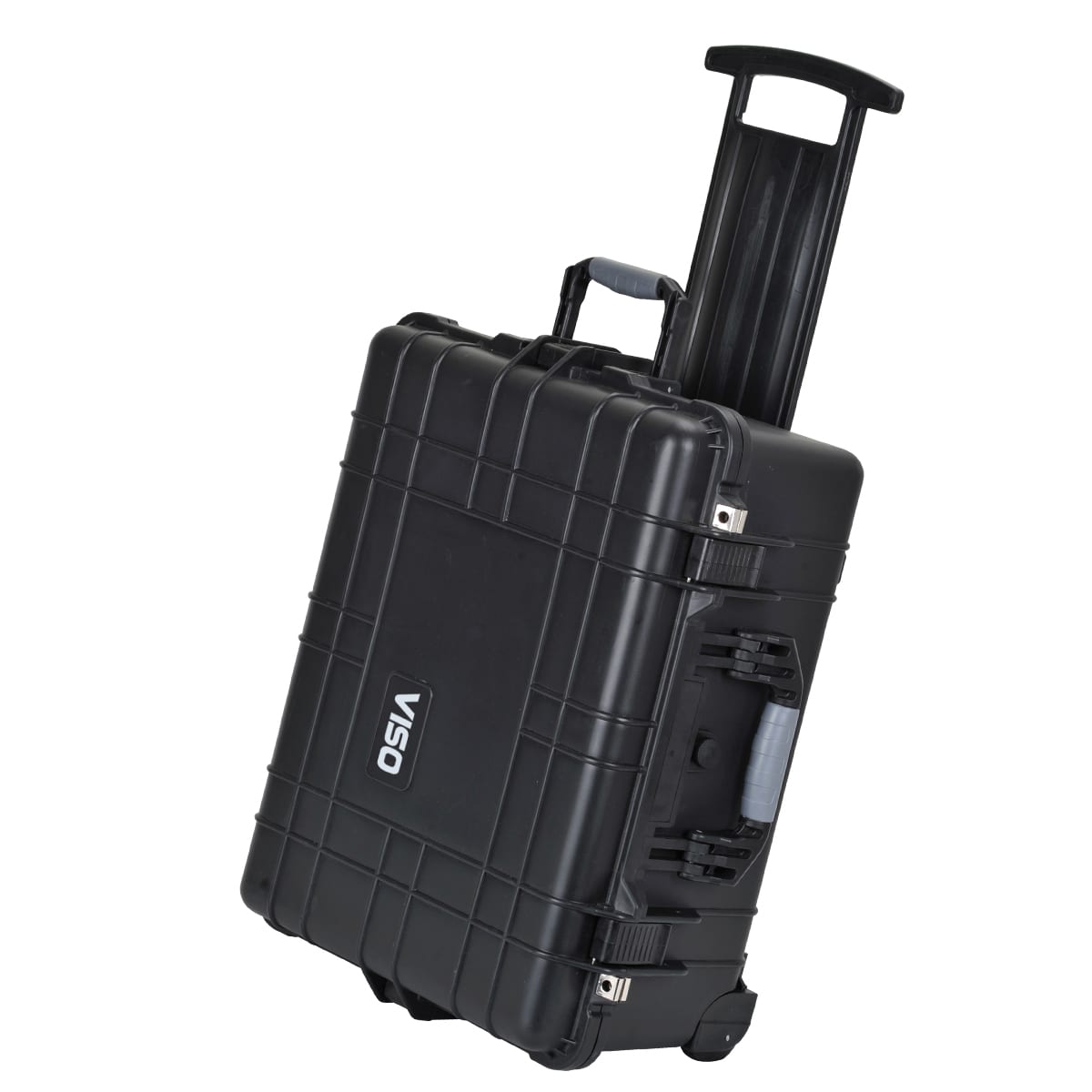 Shop Flight Cases on Wheels
Lightweight Flight Cases
Since the items being stored and transported in equipment cases tend to be too large or heavy to carry easily outside of a case, the last thing you want is for the container itself to add a huge amount of bulk to the overall package.
Many of the best lightweight flight cases tend to be made from sturdy plastic or cast aluminium. These materials offer an ideal balance of strength, rigidity and durability while being easy to pick up and move around.
You may also be surprised at the manoeuvrability of some of the larger lightweight flight cases. These also tend to be easily stackable when not in use. Some models even feature stacking locators embedded into their secure-latching lids to make the job even more straightforward.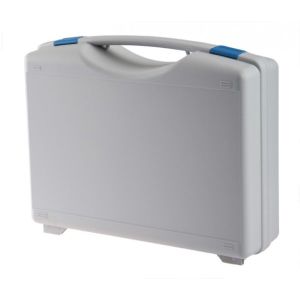 Waterproof Equipment Cases
In addition to protecting against unwanted moisture, waterproof equipment cases offer a fairly robust level of protection from dust and dirt ingress. You must pay attention to the all-important IP rating for help finding the exact product you need for a particular job or environment.
Dustproof and waterproof equipment cases can be made from materials such as aluminium. Certain options are also graded for protection against chemicals, as well as against general environmental hazards such as humidity, rain, spillages and dust.
Regardless of the material you choose, among the most important things to look out for will be thick rubber seals or O-rings around openings, hinges and latches. These will allow you to maintain a watertight (and sometimes completely airtight) interior to your equipment case, even under varying pressures at different altitudes.
Similarly, some models also include automatic one-way pressure release valves. This will also help to keep conditions inside the trunk balanced within safe limits at all times.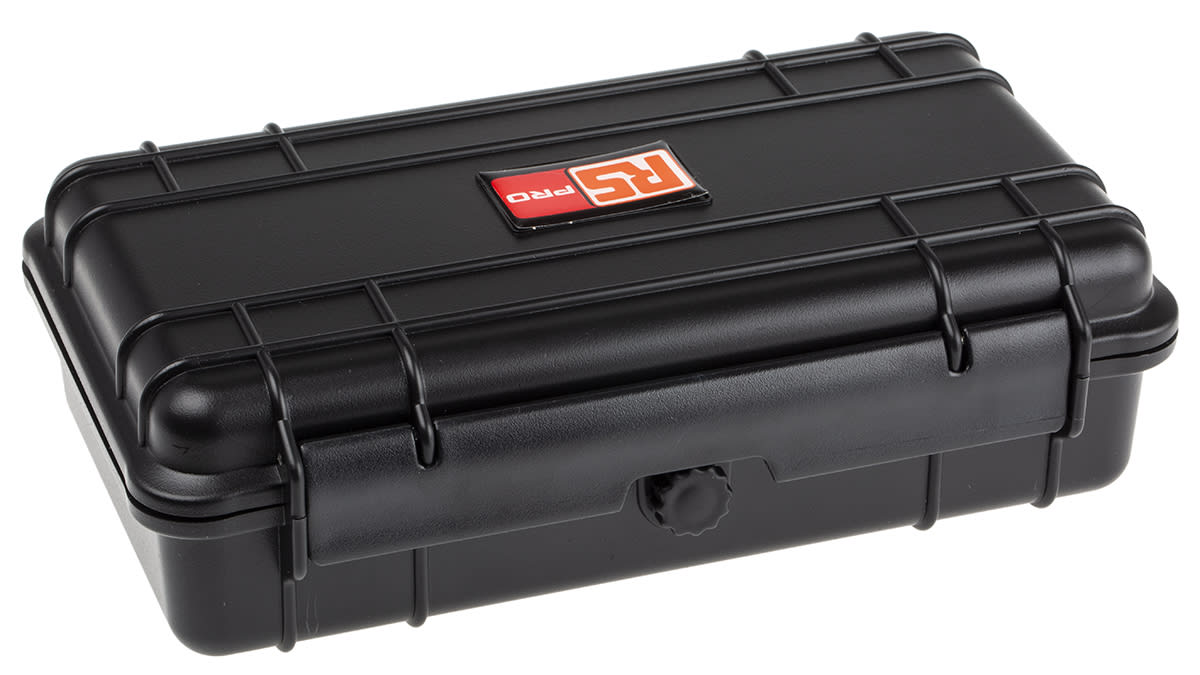 Shop Waterproof Equipment Cases
Flight Cases for Guitars
Flight cases for guitars are a popular choice among musicians. Both acoustic and electric guitars require careful handling during shipping or air travel. Their weight, size, and relative fragility mean that they are prone to damage, and this is why protection with a quality transit case is essential.
Flight cases for guitars tend to be built to provide additional support and padding around the most vulnerable parts of the instrument. These normally include both the headstock and neck of the guitar, particularly at key joints and where cutaways on the body taper sharply. Guitar cases will typically include a good deal of strong secondary bracing, packing or foam padding at these vital points.
Lightweight but sturdy, these are dependable pieces of equipment. They provide a good level of overall protection, while also being more convenient to carry between locations. It should be noted that music cases for other instruments and accessories are also available. This includes specialist options such as a bass guitar case, an electric guitar case, or an acoustic guitar case.
Flight Case Sizes
Both large and small flight cases are available, making it easy to select the most appropriate sized enclosure for the item or items you need to protect.
Small Flight Cases
Small flight cases tend to be designed with both portability and protection in mind. This means that they are normally focused on convenience and comfort during journeys, as well as being built sturdily enough to withstand various types of impact, damage or ingress.
Small flight cases will also commonly feature some arrangement of foam inserts or padding. This is ideal for protecting less bulky items such as electronics and tools, as well as preventing the contents from moving around too much in transit, and potentially sustaining damage from knocking against the interior of the case.
These smaller cases are less commonly found with wheels attached, as their size usually does not warrant this addition. However, they will often include sturdy feet and a full range of security measures such as latches, locks and wrist straps. Handy briefcase-style options are also available for increased portability.
Large Flight Cases
Large flight cases are often chosen for shipping bulky, heavy or oversized items. They are available in a wide range of sizes and volumes.
Large flight cases are chosen for many different items of more cumbersome electronics, technology and heavy equipment. Particular models may be designed to fit anything from musical instruments and bulky tools right up to multiple server racks and mixing desks.
Key points to consider when looking to order large flight cases include:
Sturdy handles and wheels

Higher weight limits and carrying capacities

Reinforced structural panels

Rackmounts

Secure locking or latching lids

Retention strapping for added peace of mind during extended storage, shipping and baggage handling