A Complete Guide to Eye Bolts
Our guide will explain what eye bolts are, the different types, their uses, sizes, and lifting capacity.
What are Eye Bolts?
The eye bolt (otherwise known as a lifting eye bolt or eyelet) is a type of bolt with a loop at one end. They are used for a wide variety of material lifting applications and may either pivot or swivel. The securing eye must be securely attached to the structure before ropes or cables are tied for lifting. In some instances, there will be a purpose-made hole for the eye bolt. The load may also have to be attached to a hole designed for alternative use, such as the stud.
Previously, eye bolts securely attached to the load were left in place, effectively becoming part of the load. However, it is now quite common for the detachable lifting points to be used as accessories. Legislation in different countries stipulates the need for eye bolts to be reliable and of good quality. It is necessary to carry out regular inspections to ensure that standards are met. Additionally, it is generally recommended that you detach the eye bolts, fill the holes, and store in suitable conditions until they are needed.
Eye Bolt Uses
Heavy-forged eye bolts with a continuous eye are commonly fixed to an integral shoulder. They can be used to lift heavy off-axis loads. However, eye bolts without a shoulder cannot be used to lift heavy off-axis loads. Smaller eye bolts are typically used for tensioning wires, securing loads, and other types of non-load bearing applications.
Load-rated eye bolts are made for vertical lifting applications. However, they should not be used for angular lifting. Bolts that are not load-rated can be used for tie-down and guided wire applications. However, they should not be used for lifting. Reference should be made to the rated weight when choosing the eye bolt best suited to your purposes.
You must have an understanding of the uses and limitations of equipment in preparation for lifting. You will also be expected to follow appropriate slinging procedures and apply suitable mode factors. The eye bolts should be in good working order, with the thread and hole fully compatible. You must also ensure appropriate standards of cleanliness and assure protection against corrosion and damage.
It is expected that you will angle loading procedures as set out in the manufacturer's guidelines. The eye bolts should also be selected based on the expected impact of environmental conditions. It will be necessary to replace them on the identification of worn threads or other major issues. You should also avoid the use of a shackle which has a greater lifting capacity than the eye bolt due to the associated risk of overloading.
Eye Bolts for Wood
Eye bolts designed for wood attachment are otherwise known as vine eyes, screw eye bolts, eye screws, and turned or burned eye lags. They feature a wood or screw lag thread for the security of wood, masonry, or lag anchors. These eye bolts can be combined with plastic wall plugs for masonry mounting. Other common uses include plant training and fixing of wire trellis.
Eye Bolts for Concrete
There is a variety of eye bolts designed for secure attachment to brick and concrete. These eye bolts have exceptional levels of grip and can accommodate oversized holes resulting from power drilling weak materials such as brickwork.
Eye Bolts for Swings
There is a variety of eye bolts which are purpose-made for swings, using high-tensile stainless steel. They feature either a metric or imperial eye at the top of the bolt and are well-suited to heavy-duty applications including the movement of panels and gates.
Eye Bolt Types
There are four main eye bolt varieties, available in a range of sizes and finishes. Standard eye bolts come complete with a drop-forged eye. However, you can buy economical alternatives featuring formed eye holes. The drop-forged eye variety is recommended for heavy-duty lifting applications. You can also choose eye bolts made from stainless steel or featuring anti-corrosive coatings such as hot-dip galvanised steel.
Regular and shoulder eye bolts can be used to securely attach and lift loads. However, you should be careful not to exceed the working limits when using such eye bolts. Shoulder eye bolts are suitable for loading at a slight angle. However, regular eye bolts should be used for vertical loading exclusively. There will be a risk of bending and breaking if these eye bolts are loaded at angles.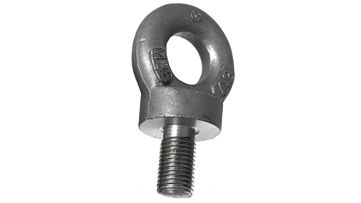 Long Shank Eye Bolts
Long shank eye bolts are available in a range of sizes, with an anti-corrosive coating typically being added. Commonly made from stainless steel, these eye bolts have good levels of durability. They are suited to a range of practical applications.
Collar Eye Bolts
These eye bolts feature a large collar which is positioned between the eye and the screw thread. They are ideally suited to axial-loading applications, where there is a need for two or more lifting points. The secure attachment of the collar to a machined face enables support for the eye and prevention of screw thread bending. The minimal eye size also means that there is a small amount of leverage. These eye bolts can be used for a range of applications including wire tensioning and the secure attachment of differently weighted loads.
Marine Eye Bolts
There is a great variety of stainless steel machine-threaded eye bolts and ring bolts purpose-made for marine and commercial applications. Available in either stainless steel or galvanised steel varieties, these eye bolts ensure optimum levels of corrosion resistance.
Long Eye Bolts
These eye bolts feature a particularly lengthy shank. They are suitable for a broad range of applications, including the attachment of support wires to wooden fence posts to prop up soft fruit and grapevines.
Lag Eye Bolts
There is a wide variety of lag eye bolts made from heavy-duty materials such as zinc-plated steel. Wall plugs may be used for the secure attachment of these eye bolts to timber or masonry. However, you must check the dimensions to ensure suitability for such applications.
Large Screw Eye Bolts
These strong and durable eye bolts may be made from materials such as stainless steel and zinc-plated steel. They come in a range of lengths and are suitable for attachment to timber and masonry.
Eye Bolt Materials
Eye bolts are available in a variety of materials and finishes. Plastic and rubber eye bolts are suitable for some applications.
You can choose from the following types of metallic eye bolts:
Aluminium

Brass

Bronze

Steel

Hardened steel

Titanium

Proprietary alloys
It is quite common for anodized, galvanised, and plated (gold, zinc, or tin) finishes to be applied to eye bolts. A phosphate coating may also be added for improved corrosion resistance and the application of primers and paints.
Carbon Steel

Carbon steel eye bolts are made from a combination of iron and carbon. The addition of carbon corresponds with an increase in the hardness and strength of the bolt. Manganese is sometimes added for increased material strength. However, there is the issue of reduced ductility, with carbon bolts being more difficult to weld than steel-based alternatives.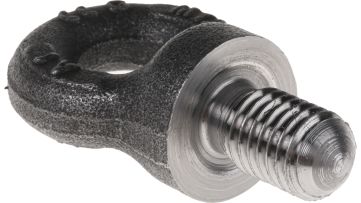 Galvanised Metal

Galvanised metal eye bolts have an added coating of zinc to prevent rusting. The hot-dip galvanising method involves completely submerging the bolt in a molten zinc solution. The zinc layering effectively prevents corrosive substances from coming into contact with the steel. The steel will also be effectively protected against scratching.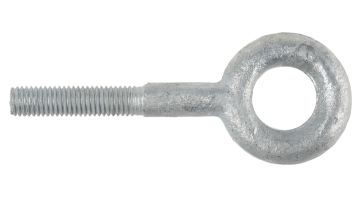 Eye Bolt Sizes
Eye bolt measurements should be taken from directly underneath the eye. There is considerable variation in the lengths of eye bolt types, such as the dynamo and long shank.
Eye Bolt Size Chart
The best way to understand sizing is with an eye bolt size chart. Note that numbers following the M correspond with the number of millimetres in diameter.
This handy diagram clearly shows where measurements A, B, and C (see table) should be taken from to ensure an accurately-sized eye bolt.
| | | | |
| --- | --- | --- | --- |
| Size | A (Shank Length) | B (Eye Diameter) | C (Total Length) |
| M4 | 29 | 10 | 52 |
| M5 | 36 | 11 | 61 |
| M6 | 45 | 11 | 74 |
| M8 | 60 | 15 | 97 |
| M10 | 73 | 17 | 115 |
| M12 | 100 | 20 | 154 |
Eye Bolt Lifting Capacity Chart
It is important not to exceed the working load limit of the eye bolt. An adjustment of the working load may be necessary for angular lifting with nut eye bolts. You will also need to ensure that nuts are tightened securely against the corresponding loads and applied in the plane of the eye.


| | | | | |
| --- | --- | --- | --- | --- |
| Shank Diameter | Working Load Limit in Linepull (lbs) | Working Load Limit 60° Sling Angle (lbs) | Working Load Limit 45° Sling Angle (lbs) | Working Load Limit Angle Less than 45° (lbs) |
| 1/4 | 650 | 420 | 195 | 160 |
| 5/16 | 1200 | 780 | 360 | 300 |
| 3/8 | 1550 | 1000 | 465 | 380 |
| 1/2 | 2600 | 1690 | 780 | 650 |
| 5/8 | 5200 | 3380 | 1560 | 1300 |
| 3/4 | 7200 | 4680 | 2160 | 1800 |
| 7/8 | 10600 | 6890 | 3180 | 2650 |
| 1 | 13300 | 8645 | 3990 | 3325 |
| 1-1/4 | 21000 | 13600 | 6300 | 5250 |
| 1-1/2 | 24000 | 15600 | 7200 | 6000 |