Extension Springs: A Complete Guide
In our comprehensive guide, we look at the different types of extension springs that are available on the market, and what you can use them for.
What are extension springs?
---
An extension spring, also known as a tension spring, is a helical length of tightly coiled metal, usually fitted with steel hooks or loops at either end for easy attachment to various fixtures, equipment and components. Extension springs are very often considered an integral part of general door hardware kits, but they're also found playing any number of important roles in other applications, from industrial to automotive, agricultural to electronics, and many more besides.
The main job of extension springs is to absorb and store energy. As the spring stretches out (extends) under force loads, it absorbs and stores the energy transferred by those loads in its many coiled loops of metal. When the force is removed or relaxed, it redistributes the force back into motion that allows the attached object to return to its original position.
Extension springs thus provide the exact opposite type of support that a compression spring does. The latter is designed to do a similar job - storing energy, essentially, to help objects move between positions - but a compression spring does so by being squashed down, as opposed to stretched out. Either way, the process involves energy being stored and subsequently released by the spring. The extension spring provides resistance to a pulling force by simultaneously attempting to drag the moving object(s) back into the original position. Familiar examples would be the type of springs we often see around the edges of a trampoline, on the rear of a wooden garden gate, or along the inside hinges of a car door.
The main visual difference between an extension spring and a compression spring is in the spacing of the individual coils themselves. Unlike a compression spring, which features widely spaced coils to allow for squashing forces, an extension spring typically has coils that are tightly wound enough to rest alongside one another when not under load. As forces are transferred through the extension spring, the coils will be pulled apart, and will subsequently return to their 'closed' position once the force is removed.
What are extension springs used for?
---
There are many and varied uses for extension springs across a wide array of industrial, workplace and domestic settings.
In addition to the familiar door and trampoline examples outlined above, extension springs are very commonly found in a diverse range of other panel and flap assemblies, as well as in various sorts of electrical equipment and white goods, and in all manner of applications where one or more elements requires tensioned support for counteracting a weight or other pulling force.
In this section, we'll look more closely at some of the familiar everyday uses for extension springs.
What are extension springs made from?
---
Extension springs are almost always made from metal, which is necessary to achieve the high tension and support the heavy weights or pulling forces they're often subject to. Most commonly, this metal will be steel - it can be either regular, zinc-plated or stainless, depending on the exact application in mind.
Depending on where and how a given spring is going to be attached and used, steel and stainless steel tension springs are also commonly sold pre-coated with various hard-wearing protective finishes for use outdoors or in more challenging workplace environments. Where a tension spring might be highly visible in certain hardware setups around the home, they can easily be designed, manufactured and installed with aesthetics in mind, and thus sold painted or coated accordingly.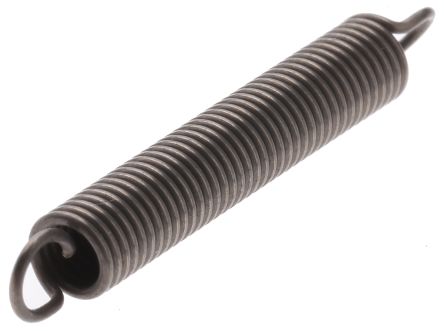 Types of extension springs
---
There are numerous different types of tension springs sold on the UK and global markets. In the section below, we'll outline some of the most widely available sorts of extension spring you're likely to see being offered by suppliers and manufacturers on a day-to-day basis.
Product spotlights
Use one of these links to view the products on the RS website