Everything You Need To Know About Eurocards PCB
What are Eurocard PCB boards?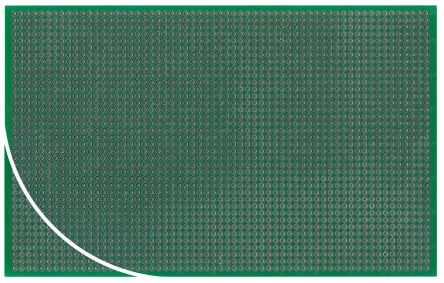 Eurocard PCBs are - as you might've guessed from the name - a European standard format for printed circuit boards (PCB). The fact that they're standardised means they can be plugged together into an (equally standardised) subrack or chassis, and are completely interchangeable without needing to significantly alter, upgrade or replace the overall mounting system to accommodate new hardware.
In proper use, the term Eurocards strictly refers to a mechanical slotting/mounting system and does not define the specific connector to be used for channelling the output signal from the PCBs through to subsequent components (nor, in fact, the types of signals that are assigned to those connector contacts).
In this guide, we'll take a closer look at precisely what Eurocards are, what types and sizes are available on the current market, and some of the different uses of Eurocards found installed in hardware networks across a significant proportion of our modern industries and sectors today.
How do Eurocards work?
As outlined above, the term Eurocard defines a standardised size and format of printed circuit boards (PCBs) that can be plugged into an (also standardised) chassis or rack mount. This allows for a great deal of flexibility and interchangeability across multiple equipment setups and mounting arrangements.
As a result, a wide variety of industrial machinery, panels and equipment nodes stand to benefit from the increased cost-effectiveness of a single universal mounting solution for common PCB sizes and layouts, without having to invest in costly sector or application-specific hardware mounting solutions on a case-by-case basis.
A standard Eurocard PCB thus plugs into any appropriate subrack, chassis or PCB enclosure, and these rack mounts will generally comprise a number of slotted card guides on the top and bottom of its interior panels.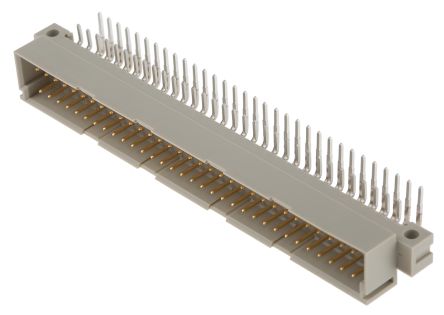 Eurocards in turn slide into these guides, where they're held securely in place standing either horizontally or (more commonly) on end, effectively filed neatly away in the housing subrack, rather like the way files slot into a filing cabinet.
Connections on the rear panel of the subrack click into place with mating connectors on the PCBs as each one is inserted, and these allow for the PCB output signal to flow onward through the network as required.
Again, as noted above, these connectors are not technically standardised or universal in the same way the Eurocards themselves are. however, a few widely used variants tend to dominate the market and help support the general drive towards interchangeability that makes the Eurocard PCB format so handy to engineers, technicians and installers.



What Types and sizes of Eurocards are there?
Strictly speaking, the term 'Eurocard' describes a single standardised size of printed circuit board, namely 100mm x 160mm (at a thickness of 1.6mm). This is the baseline or 'single' type Eurocard, although there are two other compatible and commonly-used variants available on today's market, each of which are essentially sized as their names suggest.
Including the standard single version, the three types/sizes of Eurocard PCB you'll find being sold by most manufacturers and suppliers today are:
Single Eurocard (dimensions: 100mm x 160mm x 1.6mm), also known as the 3U Eurocard
Double Eurocard (dimensions: 233.4mm x 160mm x 1.6mm), also known as the 6U Eurocard
Half-size Eurocard (dimensions: 100mm x 80mm x 1.6mm)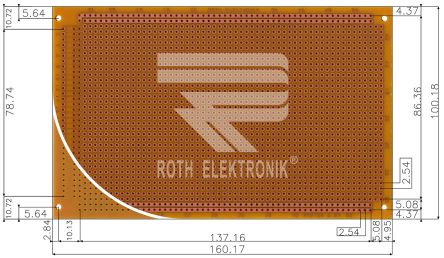 Note: the 'U' often found in Eurocard descriptions/sizing refers to 'units', with 1U being 44.45mm in height - equivalent to the height of one 19-inch rack unit.
A 3U subrack is 133.35mm (5.25") high and therefore accommodates a 3U Eurocard of 100mm in height.
Similarly, a 6U subrack will be 266.70mm in height, to accept double-size (6U) Eurocards at 233.35mm.
We'll cover rack dimensions in slightly more depth further on in this guide.
The connector systems that are most commonly associated with the Eurocard architectures include the original DIN 41612 connector (also standardised as IEC 60603.2). The most popular size of the Eurocard is a single size, but there are two other sizes available on the market.
DIN 41612 connectors are very widely used in rack-based electrical systems, particularly as PCB connectors and for motherboards, where their key strength is in providing reliable board-to-board linkups. The standard performance of these connectors is a 2A per pin current carrying capacity, and a 500V working voltage. (Both figures may be variable on a case-by-case, application-specific basis, with regards to hardware requirements, operational safety and environmental conditions.)
Again, we'll look more closely at DIN connectors in subsequent sections.
Eurocard uses and accessories
As noted above, Eurocards are very widely used in all manner of electrical, computing, industrial and production environments, thanks to their wide interchangeability and flexibility in terms of standardised sizes and rack-mounting solutions.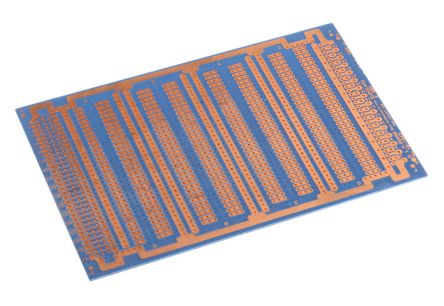 This makes design and hookup of networks and systems far more economical in nearly all sectors. It dramatically reduces the need for expensive workarounds, such as custom-built enclosures, as well as making it much easier and quicker for engineers and system builders across all types of markets to source broadly compatible parts or components, along with suitable connectors and housing chassis.
As a result, the Eurocard format is widely used across many industries and sectors, including:
Factory and production environment equipment - especially in factory power relays
Computer components and peripherals - backplane and motherboard assemblies in particular
Industrial controls - notably in DCS systems
Military hardware
Aerospace applications and high speed trains
Medical and laboratory machinery
Base stations and home/office telecoms equipment
Switching systems and other modular rack systems
Data centers, storage and server environments
What else do I need with Eurocards?
The standardised Eurocard PCB configuration offers a highly versatile solution to the costly and inefficient problem of needing to build custom brackets, chassis and enclosures for different networking nodes in different industries or applications.
This is extremely useful to engineers in and of itself, of course - but where the Eurocard PCB format really comes into its own is when coupled with some of the other commonly used components and accessories that combine to create an entire self-contained network hub or unit.
The main two other component/hardware types you'll need to be shopping for once you've decided on a Eurocard setup are DIN connectors and chassis mounts or racks.


DIN 41612 connectors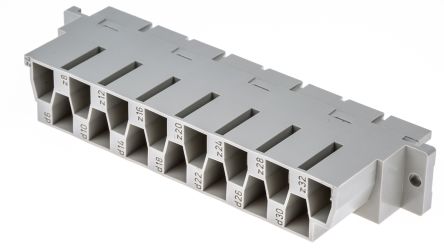 The main component that will differ depending on intended application of Eurocard PCBs is the type of connector used. As previously noted, DIN 41612 connectors are by far the most common standard for use with Eurocards, and these are available in a range of different formats, including:
Board-to-board
Wire-to-board
Ribbon cable-to-board
High current connectors
Other variables to keep an eye on when choosing and buying DIN 41612 connectors for use with Eurocard boards include:
The differing number of contacts
The many variations of housing material on the market, including multiple different types of both metal and plastic
The availability of both angled and straight connector versions
The existence of both male and female connector sockets
Finally, there will be a number of different mounting configurations available for the connectors themselves, including:
Cable mount
Panel mount
Snap pin mount
Through hole
Eurocard subracks and enclosures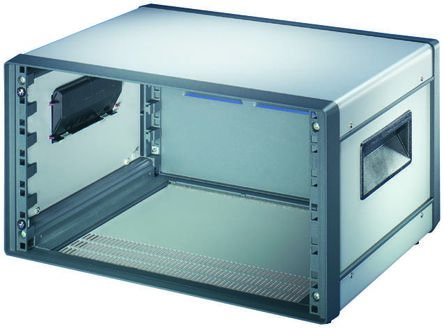 Rack-fitting enclosures and chassis mounts are specialised installation devices, used as protection and housing for PCBs that are inserted and supported via a series of slots. As well as PCBs, they're designed for mounting a wide range of standard 19" rack-mount equipment into, which might include:
Servers
Routers
Power supplies
UPS (uninterruptible power supply) systems
Switches or network hubs
Audio/video-units
Rack mounts, subracks and enclosures should be approached as highly modular solutions to storage and protection of delicate or important components and hardware. For standardised electronic equipment racks, the term 1U is used to define one rack unit of height.
You'll find a range of specific Eurocard-friendly enclosures, cabinets and component sizes available to buy from most quality UK suppliers, and the majority of these compatible products will be listed as being 1U, 2U, 3U or 4U accordingly. In each case, this refers either to the available height for component installation, or the height of the component itself.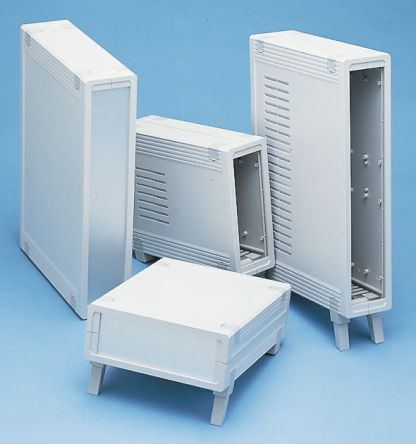 As we outlined in this guide's previous section on Eurocard sizing, 1U of rack height equals 44.45mm, where 'U' is the standardised unit of measurement for designating vertical usable space in the metal frames designed to hold hardware devices. This standardised system of measurement applies both to basic racks, and to entire cabinets (rack mounting enclosures with one or more doors on the front).
The front panels of Eurocard rack fitting cases are usually pre-drilled, to allow installers easy mounting of components and hardware in an industry-standard layout. They're typically designed with ventilation slots built-in - usually at the top and bottom, but sometimes on either side - to help keep electronics cool under load. The cases and enclosures will also come with screws to prevent equipment from moving about within the rack, and they're widely available in a broad range of different configurations.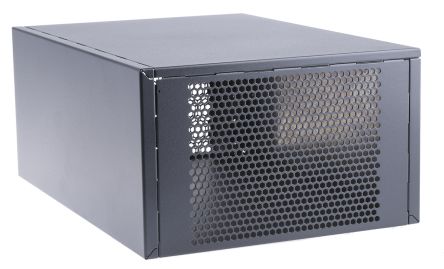 Rack fitting cases and enclosures are fitted inside rack mount units to secure equipment, save on storage space, to help keep things organised and accessible for quick and easy maintenance or repositioning, and to help protect fragile rack-mounted hardware, equipment and components. They're used across a very broad range of industries and sectors, including:
Satellite and telecoms bases
Data centres
Office HQs and other network hubs
Live performance, test and measurement environments
Equipment and hardware rooms, including most computing and server environments
We're always happy to offer further information and advice on all aspects of buying and installing Eurocard PCBs, DIN 41612 connectors, or Eurocard-compatible subracks, enclosures and chassis mounts. If you've any further questions about which hardware, mounting solutions and component products you need to complete your network node installation, you can
contact a member of our expert customer support team
at any time.
Product spotlights
Use one of the links below to view the our more popular brands on the RS website: