A Complete Door Bolt Guide
Our guide explains everything you need to know about door bolts and the different types and materials available.
Reviewed by Peter Kendall, Technical Interaction Engineer (November 2020)
Door bolts are the bracket-secured components that slide across doors to reinforce locks and provide additional security measures. They are commonly found in many domestic, commercial, and industrial environments.
They have a number of alternative names, including flush bolts, gate bolts, and rack bolts. Typically made from brass, steel or chrome, they are available in a variety of designs for use in different settings. They may also be plated to provide additional protective properties.
They are morticed on the edge of the door to which they are fitted - a mortice is a type of secure joint. In addition, they frequently feature a splined (ridged) key to lock and unlock the bolt. The key's ridges lock into the sawtooth mechanism within the bolt. These fittings are typically measured in millimetres (mm).
Locking Bolts for Doors
Door locking bolts are ideal for adding an extra security measure. Door bolts with key-only access can help to restrict movement and prevent unauthorised personnel from entering sensitive or private areas. Additionally, door bolt locks are strong and sturdy, built with longevity in mind.
This heavy-duty design is intended for doors in particularly sensitive locations. Often made from galvanised steel with a barrel bolt-style strike plate, the attachable padlock provides a robust barrier to protect against unauthorised entry. A door bolt lock is a firm investment commonly used across industry and commercial properties.
These lockable door bolts can also be used as deadbolt locks for doors. Whether intended for internal or external use, a sliding door bolt lock is well-placed to provide a quick and easy solution.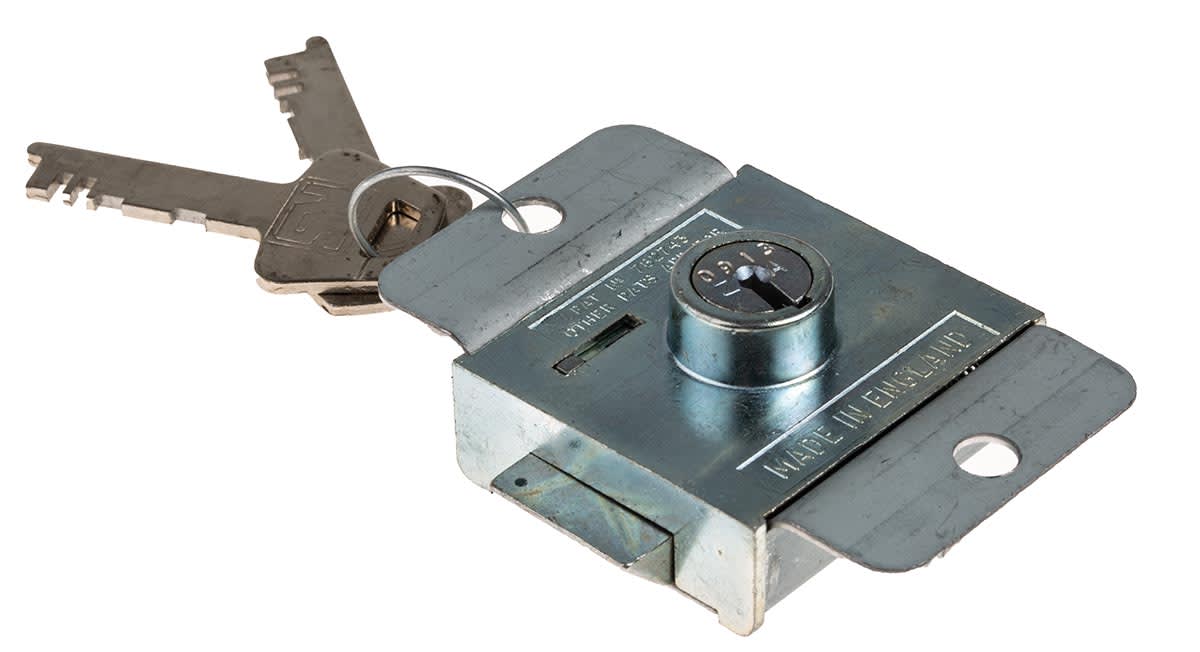 Shop Lockable Door Bolts
Door Bolt Types
There are many different kinds of bolts. Each has subtle variations in terms of its design and appearance, yet the different types are also best suited to certain applications.
Some of the most common door bolt types include:
Heavy-Duty Door Bolt

Highly secure and reliable, a heavy-duty door bolt is often preferred for peace of mind. Available in a wide range of sizes, materials, and finishes, they are manufactured with sturdiness in mind. A heavy-duty door bolt can be used in a range of locations with varying door types. However, due to their hard-wearing, robust properties, they are often found in industrial areas.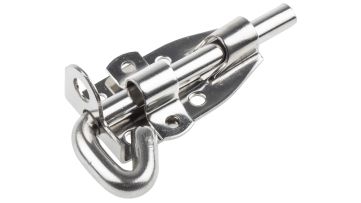 Barrel Bolts

Barrel bolts work on a similar principle to slide bolts but feature a catch plate on the opposite door frame. When the bolt slides into the catch plate, the door is locked. Typically, the bolt is cylindrical but it may also be tubular or have square edges, depending on the specific type. Barrel bolts for doors function both horizontally and vertically, making them a good choice for sheds, stables, and storage units.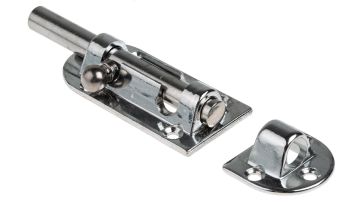 Straight Bolts

A straight door bolt is essentially a longer and thinner variation of the barrel bolt, offering versatile protection at a lower cost. Also known as surface door bolts or straight barrel bolts, they are straightforward and often used. Commonly used alongside other types of door furniture, they add an extra level of protection rather than relying solely on handles, latches, or a door knob.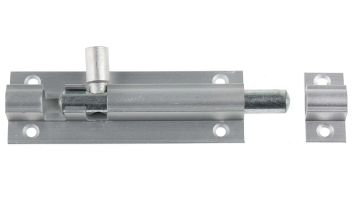 Sliding Bolts

These common models feature a cylinder into which the bolt slides. This is then attached to the door using screws. They are easy to install and feature various locking options, including padlocks and combinations.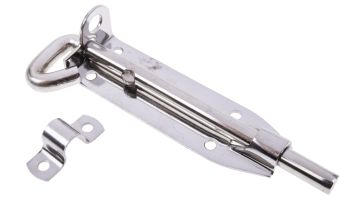 Concealed Door Bolts

Concealed door bolts are installed within the door itself and are not visible from outside. Like other door ironmongery, they provide reassuring security and are a popular choice for wooden doors and back doors. They are usually installed in pairs using a mortice (insertion joint). These types usually include a door lock which is only accessible from the inside.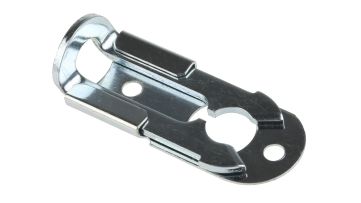 Necked Door Bolts

Necked door bolts are a variation of the basic barrel design with a curved or angled bolt head to reinforce a larger area. They will function both horizontally and vertically.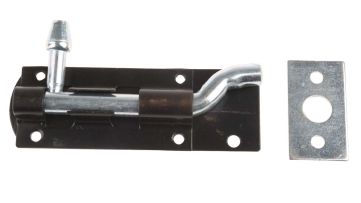 Flush Door Bolts

Flush bolts are designed for use on double doors, especially those where one side is typically unused for long periods. These bolts are fitted within the edge of each door and work by locking the doors in the middle by moving up or down into the door jamb.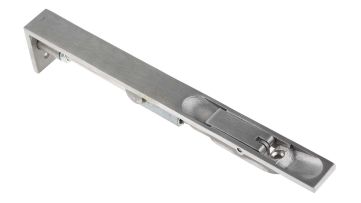 Uses and Applications
Door security bolts can be used in a wide range of locations, industries, and environments. Various different types are available, and these fixings are commonly seen in commercial and industrial premises as well as domestic properties.
Some typical applications include:
Internal Door Bolts
Internal door bolts are most commonly used in commercial properties for restricting access to certain areas. However, they may also be used in domestic residences - locking a bathroom door, for example.
Internal door bolts are typically less sturdy and more slimline than their heavy-duty counterparts. This is because their primary function is usually privacy purposes as opposed to intruder-related reasons, and there is also no requirement to perform in harsher outdoor conditions.
Due to this, smaller sizes may be available to provide a more discreet, flat option. Various finishings and platings will also be offered with internal door bolts.
Garage Door Security Bolts
These box-shaped bolts provide a degree of security for garage doors, which can otherwise be forced by a determined intruder or burglar. With a pair of locks that can be opened from both sides with the same key, garage door bolts lock themselves onto the door frame, making forced entry much harder. They are compatible with traditional up and over doors, as well as hinged, folding and sliding models.
It is possible to fit garage security bolts to each side of the door either horizontally (extending into the garage wall) or vertically (extending into the floor). For additional security, do not drill a keyhole on the outside.
If you are installing slide bolts for garage doors on the widely used up and over variety, place them in the bottom corners, around 20mm from the edge of the door. This will allow free access unless they have been locked. The locks will extend the bolts with each turn of the key.
Front Door Deadlock Bolts
Secure and efficient, front door deadlock bolts are ideal for providing an extra level of protection to a property. They are available in a variety of sizes and finishes, allowing the flexibility to choose the option that is best suited to your requirements.
With both standard and heavy-duty fixings available, they can easily provide the desired level of protection. They will typically sit flush to the surface, resulting in a more streamlined appearance. Deadlock bolts can also be combined with alternative lockable options to increase security and provide greater peace of mind.
Materials and Finishes
These fixings are usually available in a wide range of different materials, finishes and platings. They can be manufactured with durability and sturdiness in mind, or alternatively, specific finishes can be applied for aesthetic purposes. Ultimately, this will depend on factors including your requirements, the install location, and available options for the specific type of bolt you need.
Popular options include:
Brass Door Bolts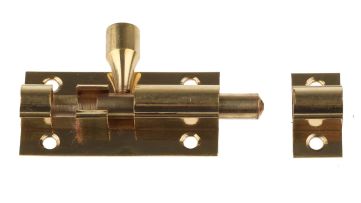 Brass is an alloy of copper and zinc. It is versatile, inexpensive and relatively easy to manufacture. A brass door bolt will be highly resistant to corrosion and rust, but will not offer the strength of other metals.

Door bolts in brass are often preferred for aesthetic reasons - polished brass is a popular choice. However, they can also be highly useful for exterior use due to their corrosion-resistant properties. Brass also offers a degree of water resistance, again making this option ideal for outdoor applications.
Shop Brass Door Bolts
Steel Door Bolts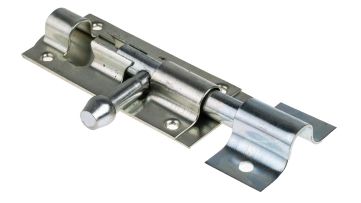 Steel is an alloy of iron and carbon. It offers good strength at low cost and is highly durable and pressure-resistant. Stainless options are usually preferred and steel bolts are widely available for a variety of general-purpose applications.

Steel is also strong, sturdy, and weather-resistant. These properties mean that stainless steel performs equally well in internal and external environments. This material is also suitable for more heavy-duty models.
Shop Steel Door Bolts