A Complete Guide to Cable Covers & Protectors
Our expert cable covers guide explains what they do, where they can be used, and the different types available.
What are Cable Covers and Protectors?
Cable covers are used in countless locations to protect cables that would otherwise be at risk of damage or disconnection. They also protect users from wiring that may constitute a physical or electrical hazard. In addition, they help to keep cables tidy and properly secured. Cable guards are a subtype of cable glands and fittings.
This guide is designed to provide detailed information for anyone buying cable covers and protectors online. We will explain exactly what they are, which types are sold in the UK, plus where and how to use them. This will familiarise you with what wiring covers and protectors do and ensure that you know how to choose the best cable protection for your needs.
What are Cable Covers Used for?
Cable covers and protectors serve a dual purpose; they protect the wiring they conceal and help to keep anyone nearby safe. You can find a wide range of cable protectors for sale online, each designed to achieve some or all these functions.
People often buy cable covers to act as a cable tidy, improving their overall cable management system. Many different types of cable protectors work as effective cable tidies. They are often quite cheap and help to keep messy or trailing wires neatly contained and properly routed between terminals, sockets and appliances. This makes them a popular option for general cable management duties in home, office, industrial and commercial settings.
Heavy duty or industrial cable protectors are widely used in almost all professional environments. They provide a more robust cover for critical, exposed or hazardous wiring. This might include high voltage cable runs for plant machinery and mains power, or wires that need to be driven over.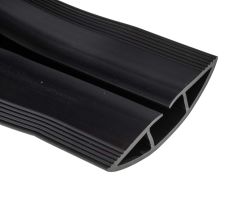 Where are Cable Protectors Used?
Standard cable guards for domestic or light duty uses are among the most common forms of cable tidies for sale online. They are widely used in homes, offices and other indoor spaces.
In offices, cord covers are often the simplest way to safely connect multiple computers and peripherals across various spaces. They are usually found running along floors, walls or skirting, helping to connect electrical devices in separate areas to a common network.
Other settings where you will often see cable protection covers used prominently include:
Workshops

Factories and production lines

Automotive assembly and maintenance

Retail and commercial environments

Marine and aerospace applications

Processing plants

Agriculture

Medical and laboratory

Various sorts of construction and outdoor sites
In short, cable protection is used in all types of domestic, industrial or office environments. It is often found where it would be impossible or impractical to run fully concealed wiring throughout the premises. Cable guards are simple to buy and install and cost far less than trying to route all power and data wiring through ceilings or walls or under floors.
In many of the above settings, an adequate cable protection solution is a legal requirement for standard workplace health and safety. It is especially critical to install proper protection if cabling crosses floors and open spaces. Heavy-duty versions are often necessary where an increased volume of staff, vehicles or visitors would be in direct contact with exposed cables and wires.
What are the Different Types of Cable Covers?
Cable protectors are an extremely popular solution in all manner of indoor and outdoor locations. Some of the most popular and widely used varieties of cable covers and protectors are outlined below.
A set of cheap rubber floor cable protectors acts as an effective cable management system, as well as providing a physical safety barrier against damage, disconnection or snagging for both electric cable and users.
When shopping online for cable protection in the UK, most products will fall into one of two broad categories:
Standard or light-duty cable covers and cable tidies are usually sufficient for most home and small office uses. They are often black or white, but may also be available in a reasonably wide variety of alternative colours

More durable heavy-duty cable protection may be a better choice for specialised industrial uses. They are typically black but are sometimes also available in high visibility colours for identifying potential hazards. If installing in especially high traffic or environmentally challenging locations, you may be obliged to use heavy-duty versions by law
Floor Cable Covers
A floor cable cover is designed for protecting wiring that needs to cross open indoor spaces. They are often seen wherever people are likely to be walking over or around floor-run cables regularly.
The key function of a rubber cable protector floor installation is twofold. It will protect wires from damage or disconnection, and help users nearby avoid tripping over them or being accidentally exposed to a current.
Most floor cable covers are made from durable and flexible PVC rubber. This makes them waterproof and non-slip. A common design is a long rubber strip with a slight camber on each side, and a central groove or channel for routing the cable. In some cases, a floor cord cover may entirely hide any wires running through or under it, while other designs leave the cable visible in an open channel.
Light duty cable protectors for floors are an effective guard against potentially dangerous trips, spills and snags. They also further insulate and conceal live wires from people moving about the space.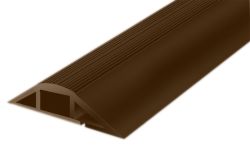 Shop PVC Cable Covers
Cable Mats
Cable mats are wider versions of the traditional cable cover strip often found running across doorway thresholds. A cable protector mat is designed to cover a broader area and could be more like a traditional doormat in shape and size.
Protection mats can usually cover multiple cables at once, making them a suitable choice if you have more than one wiring run crossing an open space. Some cable mats have built-in channels for routing wires more tidily, but ones without channels may be more versatile in some situations.
White Cable Covers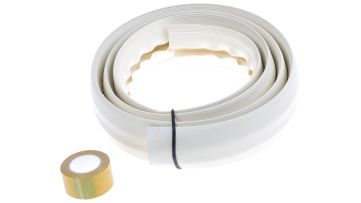 Many industrial and heavy-duty models are supplied in black or high-vis (orange, yellow, reflective).

Meanwhile, neutral grey, brown or white cable covers are especially sought after in lighter-duty models. This is generally because they blend in better with most home and office decor.
Shop White Cable Covers
Outdoor Cable Protectors
An outdoor cable protector might be labelled as an external cable protector or exterior cable cover. Outdoor cable protection is primarily about the robust guarding of cables against more challenging conditions. External cable covers are usually built to withstand damp, unwanted tampering, and various other environmental hazards. They also make wiring runs in outdoor spaces look neater and more professional.
Exterior cable covers will usually be made from thick, durable PVC rubber, or hard plastics like polyurethane. Most will be IP67 or IP68 rated against dirt and moisture ingress as a minimum.
Heavy-Duty Cable Protectors
A heavy-duty cable protector is typically required in high-traffic or industrial settings, such as construction sites and factory floors. High voltage cable runs that cross the path of delivery vehicles, staff cars or heavy plant machinery will need to be protected with heavy-duty covers. Less substantial versions will not offer sufficient protection in most cases and may not meet legal health and safety standards.
Most heavy-duty cable protectors will be designed for outdoor use and carry an IP rating that reflects this. Even so, you should always check the manufacturer's specifications for weatherproofing and load-bearing, especially where it is likely to be put under more extreme stresses or challenging environmental conditions.
Heavy-Duty Cable Protector Ramps
A cable ramp or cable protection ramp is one of the most widely used and familiar types of heavy-duty cable protection systems. They are designed to offer greater impact resistance than standard versions, and often function as a type of electrical cable safeplate.
Cable protector ramps look a little like smaller versions of standard speed bumps but will normally incorporate a dedicated wiring conduit. These cable channels might be designed as a recessed groove in the top of the heavy-duty protector ramp, run beneath it as flexible conduits, or pass directly through the middle. Especially robust and durable cable guards will often be built to stand up to the rigours of very heavy vehicle traffic.
Outdoor or heavy-duty cable guards offer increased protection in all weather. They are typically available in a range of high-res and reflective colours, making them more easily identifiable as trip hazards or for people driving vehicles in the area.
Cable Protector Sizes
Cable covers are sold in a wide range of sizes, both by length and by width. In the UK, sizes are usually given in metric measurements, most often stated as mm or cm. Common widths can range from 14mm to 600mm or more. Cable protector lengths also vary greatly, typically ranging anywhere between 80mm and 9 metres.
Standard Cable Protectors
Standard cable covers and protectors are ideal for many types of wiring runs around homes and offices. They are sold in a wide variety of styles, colours, materials and configurations.
Selecting the best light-duty cable protection for your needs involves the consideration of various factors. These should include:
Exactly what sorts of wiring you are looking to protect and cover

How many cables you need to protect with each cover, and the thickness of the individual wires

The specific install location and the type or amount of traffic (feet, wheelchairs, trolleys etc) likely to be passing over them

The degree of protection you feel the cables and any nearby users require

The size, material, sleeving colour and visual style you would prefer your electrical cable protectors to be available in

Whether you will need protectors with additional features such as self-adhesion, linkability, or electrically earthing

Whether you want to include any accessories, fittings or fixings along with the core product. General-purpose add-ons like cable ties can help to improve your overall cable management so it is worth considering